Friday, February 20, 2004
OK so going to soccer was a mistake tonight
At least I have now had the third accident - and I always have accidents in threes.

About 3-4 minutes into the second half I tackled a bloke who was shooting for our goal. I made the tackle, but the angle I was meant I was tripped by him, and I rolled my ankle and fell. His body was against mine stopping me from using my hands so I hit the astroturf with all my weight and height on the corner of my left eyebrow. As my head bounced up I saw blood streaming off my face. By the time I turned around and people gathered around, they thought I had lost an eye by the amount of blood on my face and in my eye socket. I couldn't see out of my eye. I was helped to my feet (watch the broken collar bone!) and walked off the court.
There I was tended to by a lady from the other team, and Ben's girl Megan - who is a doctor (as is Ben). They iced my ankle and cleaned the blood off my head, bandaged it and iced it.
After the game (we lost miserably) Ben and Megan concurred that I probably should have it stitched, but I could get away with steri strips if I wanted to. I opted for home (where the drugs are - hip hip hooray for Tramol) and my excellent wife.She picked me up - we screeched into a chemists 4 minutes after they closed and scored some steri strips and home we went where she doctored me up. Thanks love.
Photos below.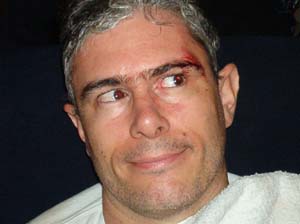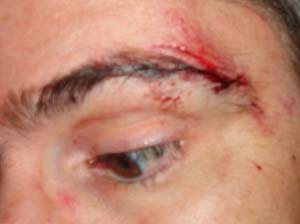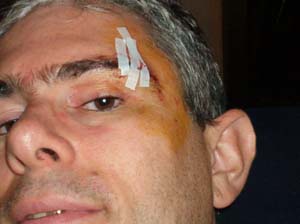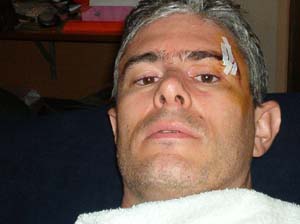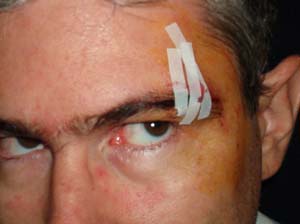 Special thanks to Melissa and Ralf (who missed most of the second half helping me)