Links




This is my blogchalk:
Australia, Queensland, Brisbane, English, Female, 26-30.
Blogroll
-------------
Recipes
Archives
free website stats
Friday, March 19, 2004
Carrot Cake
This is a good and very simple recipe and works well provided you don't get over enthusiastic and open the oven too early to check if it is done. It it does sink you can always fill up the hole with cream cheese icing.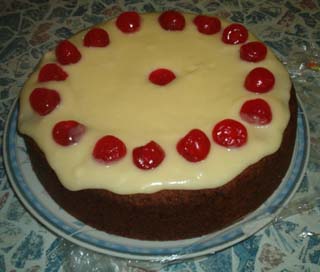 Ingredients
250 grams melted butter
1 cup brown sugar
3 eggs
1 1/2 cups SR flour
1 tsp bicarb soda
1 tsp cinnamon
1 tsp powdered ginger
1 tsp nutmeg
250 grams grated carrot
3/4 cup chopped walnuts

Method1.
Beat cooled melted butter, brown sugar and eggs in a large bowl.
2
. Fold in sifted flour, bicarb, cinnamon, ginger, nutmeg.
3.
Mix in grated carrot and chopped walnuts. Mix thoroughly until all ingredients are combined.
4.
Pour mix into a greased 20cm cake tin. (roughly 8 inches).
5.
Bake in a 180 C preheated oven for 1 hour.
Cream Cheese IcingIngredients
1 tub of 250 gram cream cheese (warmed to room temperature)
1 cup icing sugar
juice of half a lemon
Method1.
Combine all ingredients in a bowl and mix until smooth.

Note
: Lemon juice can be substituted for orange juice or honey. Too much juice will result in an icing that is too runny and will not set. If this happens, it goes great on pancakes.