New Website
You can find all Jono's news photos and more on his new website www.jonomiller.com
Tuesday, November 30, 2004
Camping outside the Presidential Palace in Marinsky Park in Kiev
Nov 30 2004 4:30 PM

I've just lit a candle cause its starting to get dark. Why do I need a candle? Because for the next few days I will be living in this tent outside the Presidential Palace in Marinsky Park. As I write it is -2 degrees.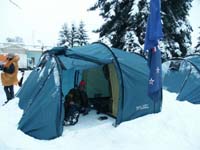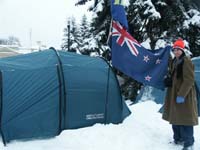 I am in a camp operated by PORA, an organisation formed to fight for fair elections. This camp site is 3 days old & numbers 300 so far. Most people are sitll situated on Maidan Nezalozhnosti but there was no more room there for me.
Here everyone was very happy to have me. They gave me a tent, a pole for my NZ flag, warm food and offered me warm clothes.The cooperation and organisation is extraordinary. There are young and old - mostly from outside of Kyiv, working and living together.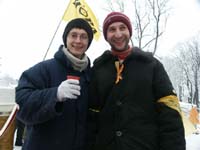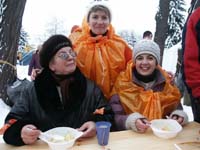 As of today I have not heard the High Court's official ruling. But I'm here rubbing shoulders with people who care enough to see their country leave corruption and lies in the past. They want integrity from their government, pray that they will also want it for themselves. Pray for this country (and pray I don't catch a cold)!
Jono