New Website
You can find all Jono's news photos and more on his new website www.jonomiller.com
Tuesday, December 14, 2004
Orange Revolution - The Real Ukrainians
Over the past few weeks, Ukraine has been thrust into the spotlight on the world stage. The media usually focuses on the sensational. I rubbed shoulders with ordinary Ukrainians. Here is one story.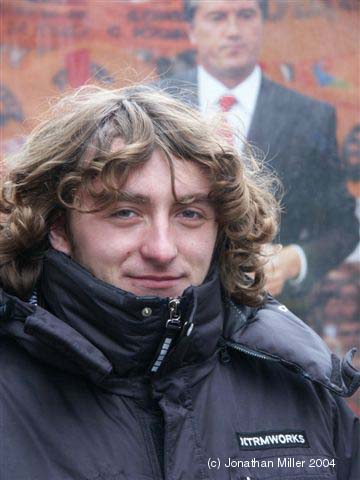 Meet Valera Lutsenko. Valera is a 19 year old Computer Science student at the Pedagogical University of Ukraine in Kyiv. He is also the bass player for the band Dekanat.
I met Valera one evening as he stayed on guard all night outside the tent I was sleeping in. He is one of the willing volunteers who has done everything with a smile. He has braved sub zero degrees and hunger for the cause of the Orange Revolution. I asked him why he chose to stay at the PORA campsite when he has a nice warm hostel here in Kyiv. Through a translator, Valera told me, "Ukraine is a wonderful, rich country with good people. But I am disillusioned and disappointed with the level of living for normal Ukrainians." He has been disappointed in the parliament and leaders of his country. "They look out for themselves and not the people of their country".
I asked him how long he will stay. "As long as it takes," he told me, "we have waited 13 years for freedom, we are not going to give up now."
After two weeks, Valera went back to his University. About 50% of the students were there. The lecturer told them that because they came, they would not receive bad marks, but because they were not protesting on the streets, they would not receive good marks. Valera, spent all day at University, practiced with his band in the evening, stood guard for about 3 hours at the PORA camp and then grabbed a few hours sleep. And he does it all with a smile.

"The best thing about the Orange Revolution," said Valera, "is the friendliness and kindness of so many people. Their common unity has made them go out of their way to take care of each other."
Valera also sees that when the Revolution is over, life must return to normal and that will be hard. "I will miss the new friends I have made over these weeks".
I have stayed in PORA for just over a week. I have seen the ordinary Ukrainians. Day in and day out, this is not about a big party, crowd mentality or sensationalism. This is about real people wanting their best for their country, for their people, for their future.
May the ordinary Ukrainians be the real winners when all of this is over.