Saturday, January 31, 2004
Fantastic day today.
Taught some basic accounting skills to a chap and his eldest son who we are helping get started in business.
It's great when you can see the light go on in their eyes when they figure it out.

Then I played with Erin - made her some butterfly wings. Here's some pics.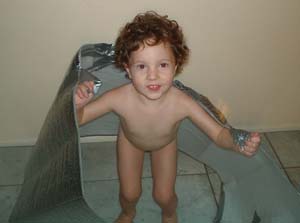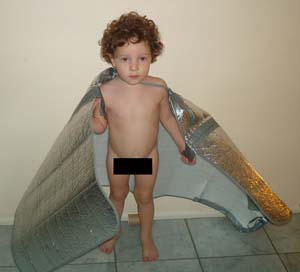 After lunch we watched the womans final of the Australian Open.
Kim Clijsters got beaten in a fascinating match where she fought valiantly but Justine Henin-Hardenne was too good for her in the end. The intensity level of both players went up several times.

Following that we went off to the local beach - a man made lagoon at the real beach - where I went nuts with the camera.
Check all the pictures here.

Had a thought about Paris Hilton yesterday. There have been any number of spam emails rocking into my inbox telling me I can see a home video of Paris with her boyfriend a la Pamela Anderson. Having never heard of anybody who has actually seen this supposed footage, and not seeing any news items about the Hiltons sueing the purveyors of such dubious material I had thought it must just be more XXX spam using a celebrity figure. However a recent TV ad on here in Australia starts off with (not quoted correctly but close enough) "Want to see Paris in a position she's never been in before?" The ad is actually an ad for a new reality TV show due to air here soon called the simple life where Paris and some other girl called Nicole (who are both obviously ditzy spoilt brats) are sent to work on a real farm.

So my thought was (having never heard of Paris Hilton before the spam emails started turning up) that maybe the whole big thing about the home video was just a publicity stunt to get her name into the limelight before the TV show. Maybe I'm just too cynical...