Thursday, September 30, 2004
Half Naked Thursday
Changes coming
Just a warning.
There will be changes coming to this site soon.
I am going to break up my blogging into several separate more closely categorised blogs.
This will remain as my family and personal blog though will shift to my domain www.spyjournal.biz. (note there's nothing much there yet.)
I will then add a number of blogs, some of which will be collabarative affairs with other bloggers. These will focus on specific things, eg a recipes and catering one with rasita, a blogging template and tech help site, an excel and vba site etc.
Let me know if you would like any others.
Wednesday, September 29, 2004
Seeker sensitive churches
Tim Challies has written an excellent article about seeker senstive churches. Read the whole article on his website. The point is our church should be worshipping not to an audience of seekers, but to an audience of one - God alone.
Worshipping The Seeker
I believe our churches need to be seeker sensitive. There, I said it! And not just a little bit seeker sensitive either. I believe they should be wholly, entirely given over to the idea of seeker sensitivity, for this is the highest calling of a church. Hear me out. Seeker...
Monday, September 27, 2004
Cool Tech Stuff
Links to some really neat stuff I have come across recently.
Mostly for me to remember so I can go back and find them again at some point.
Feel free to check them out

Portable Firefox - can be installed on a USB drive.

RSS Calendars - a way of creating an online calendar with an RSS feed that friends and family can subscribe to.

More reading on problems with Windows XP SP2 to research - issues specifically wirh Outlook 2003.

AutoZip - automatically compresses email attachments


Test from Sauce Reader



I am just testing blogging from Sauce Reader




This is the new RSS reader I am trialling




So far tonight I have downloaded an installed 7 different ones and this is the best of the lot, though one of the largest downloads.




However it has some real cool features, like email and webloging from a post, full HTML rendering, the ability to (manually) shift to differnet machines, full ATOM and RSS support with OPML import/export., 3 column browser (looks like outlook 2003) and many more.




Best of all its FREE for personal use!



Sunday, September 26, 2004
Rant
Philips post about doctors etc got me going.

Having had extensive personal experience with doctors, hopitals and emergency waiting rooms myself (along with the insides of several ambulances) I am now incredibly blase (where's an acute sign when you want it) about injuries. To the point now where I have to be almost dead to bother even going to a hospital. The second time I broke my collar bone I didn't even bother going for x-rays. I did go to the doctor (because I rebroke it rushing home to take my pregnant wife to the doctor) and I said to him well there's nothing they can do is there and he agreed - so I said well its obviously broken - no point in getting x-rays and he grudgingly agreed.
Unfortunately this flows over to the kids. My daughter cut her finger a while back with a knife (she shouldn't have been playing with it). It was evening in the weekend. There was a footy match coming onto tv. Jude wanted to take her to emergency. I said it will be full of football players and you will be waiing for hours. It will be healed before they even see you. There was no way I was taking her anywhere - I held a bandage onto it to stop the blood and it was fine after a couple of days.
I've waited for hours in waiting rooms to be told what I've already known - "looks like that's a nasty sprain - should really get it up and ice it" (well i could have if I hadnt been sitting in your stupid waiting room watching it swell up for the last 3 hours).
I had a nasty cut over one eye at indoor soccer earlier this year. Was tripped with my arm trapped by the other players body and managed to land square on the corner of my eyebrow. Blood everywhere! Well we have a doctor on the team, and his girfriend (also a doctor) was there as well. Once again - Friday night. I'm not going to waste hours at the emergency room waiting for a doctor to wipe it clean and stick 2 or 3 stitches in it. (It probably really needed 10-12 check the pictures) So my wife met me and we raced to a chemist shop - got to it as it closed and security guard was kind enough to let me in and as all I wanted was steri-strips and not a prescripion the chemist was kind enough to sell them to me. Went home and cleaned up and taped up and all was fine.
Healed up now so you can't even see the scar.
Rant over.
Saturday, September 25, 2004
Lions Lost (boohoo)
Well I am sad to say that they couldn't do it.
Port Adelaide 17. 11. (113) def. Brisbane Lions 10. 13. (73)

The Power overcame us.
It didnt help that the umpires made some rather inconsistent free kick calls. One of which cost Brisbane 2 goals by giving away a certain goal to Jason Akermanis and allowing POower to score instead.
However to be fair I don't think that the umpires poor decisons would have made any difference in the end as the Power were comfortable 7 goal winners.

Congratulations to the Port Power. This is their first national Grand Final win ever.
Well done Brisbane for being the (almost) greatest team in history. Just being in 4 consecutive Grand Finals is enough to show what an amazing team you are, and how well coached by Lethal Leigh you are.

Now the footy is over for a few months it is time to concentrate on the motor racing. The first ever Formula 1 race in China is on tomorrow.
Kimi Raiikkonen can not now win the championship, and in fact neither can Jensen Button who is in 3rd. But Rubens Barrichello (another Ferrari driver) can, and he's not given up yet. In fact he's been quoted as saying he will not give up until its a mathematical certainty that he cannot beat Michael Schumacher. He also qualifed on pole for the race in China.
Go Rubens!
Photo Friday - Furry

Photo friday challenge for this week.
Grand Final Day
The Lions are going to win - I can feel it!
They will win 4 grand finals in a row and become the greatest team to ever play AFL footy.
Today's buildup started this morning at 8:30 with the Grand Final breakfast. During the week was the final of the Footy Show and last night Before The Game screened their final show also. Huge events in their own right. Then there was the Brownlow medal for the best on ground during the year. Lucky Chris Judd took that away with his girlfriend Rebecca Twigley winning the red carpet most glamourous girl with an amazing daring dress. Photo 1 and photo 2
Today we are now less than an hour away from kick off. Sorry Port Power, you are going to lose.
Friday, September 24, 2004
The Kingdom of God and the Church
I have been doing some great reading of late. The books I am in the middle of (simulteneously) are listed on the left hand side of the blog under my profile.
I have also come across these two sites which I am reading through slowly as I get spare time.
Kingdom History
and 9 Marks (of a church)
Thanks to Tim Challies for the second link
Wednesday, September 22, 2004
Complainers
Took the kids to the pool. You know, water - wet stuff. Comes to the top of the pool. Is splashed out onto the concrete between the pools. Obviously - cause all the concrete is wet.
There are chairs there - people sit on them. We sat on some. Put the kids in the water beside the edge. Kids are small - they love water - they splash. Water comes out and goes on concrete. Nothing abnormal here.
Woman sits down in chair. Has kids of her own. They are splashing. One of mine splashes and a bit of water lands on the edge of her scruffy cargo pants. Leaves a wet patch about mid calf around 2 inches across.
Woman goes off at me for allowing my kids to splash. I am gobsmacked and reply without thinking - "Its a pool, its water - kids splash - move away if you don't want to get wet."

She did.

Filthy looks ensued for the rest of the time we were there!
What did I do wrong?
Monday, September 20, 2004
Shopping
Taking my wife shopping for clothes is comparable to extracting teeth from a sabre tooth tiger, in plain language near impossible.
On Saturday we went shopping for clothes. Admittedly we had some dramas on the way. Once we reached the main shopping centre (after going to a smaller one for some discounted brand labels for myself) we had to split up so Jude could feed the baby. That was fine, I was planning ahead, making sure there would be no crying babies to distract from the clothes buying process. Jude went to feed while I took the girls shoe shopping. The first store I got to we went to the shoe section, grabbed the first pairs we could find that fit and were out of there. We found a toy demo play area where we could take home what we made - we made lots! Jude met us there and then we started the boutique shopping process.
First store was yuck.
Second store was yuck.
Third store was starting to get the evil eye but I resisted and took her down the back where I found some skirts that looked ok. The kids discovered a sofa in the change area and then settled on the floor to play with the new toys.
So baby is happy, kids are quiet and happy, wife is still grumpy but has no reasonable excuse now not to try on clothes.
I installed her in a change booth and worked on the principle of keeping her in there by making sure she has more to try on. This means while she is changing I am grabbing 2 or 3 items at a time from the racks and heading back to the change booth
The first 5 skirts were yuck. First top ignored. Principle here is to use items that I know she won't like so as not to waste the good ones. Eventually she starts to realise she is not going out of there without buying something so starts trying to decide between things. I put a quick stop to that with "we are buying whatever fits and is nice."
By this time my frenetic rack raiding activity has not gone unnoticed by store staff, and the 4 kids in the change area though still playing quietly are also getting noticed. This is where customer service works. If they had ignored us they probably would have got a sale of maybe 1 skirt or nothing.
However a nice lady came to help. We held whispered conspiratorial conversations about Jude's reluctance to try on gear, her likes and dislikes, measurements etc. She assisted me with the rack raiding and we located numerous tops and dresses to try.
Jude is now resigned to the process if not actually enjoying it and the kids are still going well. Erin has stopped playing and is now kissing herself in the full length dress mirrors leaving smudge marks. However still being good and the sales ladies think this is cute. We now have 1 skirt and a top that are OK and have discarded the other 10 or so skirts and 3 or 4 tops. The lady brings me 4 more skirts. 2 are summarily discarded "Don't like that" and two tried. 1 fits and is added to the pile. The baby starts to cry so I am rocking the pram back and forth, effectively stopping the rack raiding. With no more ammunition being fired at her Jude uses the lull in proceedings as an opportunity to escape from the change booth and I give in knowing we got 2 skirts and a top. I send the kids out with Judith while paying for the gear. $220 bucks later the sales assistant was warmly thanked for all her help and she now has to clean two smudged mirrors and put away 15 outfits but she sold more by being helpful than by not.

I am wanting to hit the next store but Jude has had enough so its off to the cafe for a drink and icecream before heading home.

Oh and the reason for the shopping? Jude bought two pairs of sexy shoes in a sale and I said - OK now you need outfits to go with that and I got loot to spend.

How many woman do you know would be reluctant to get new outfits to match the shoes they just bought?
Erins 3rd Birthday
Some pics from Erin's 3rd birthday today.
Read all about it on Judith's blog

Presents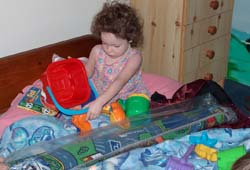 Jaffa the Giraffe



Cake!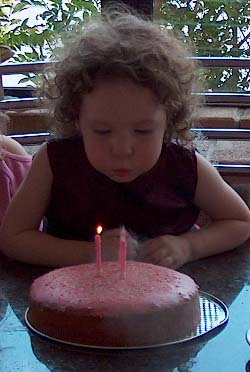 Saturday, September 18, 2004
Photo Friday
I have added my Photo Friday picture to our Photo Archive.
Check out the other pictures there too - we put our best photos on there.
Thursday, September 16, 2004
Half Naked Thursday
New Car Stereo
Today I bought the new head unit for the car stereo.
It is a Clarion DXZ546.
It is the first part of a phased installation. Next will be new speakers, then a multi channel Amp to drive them along with a sub woofer.
The unit has 2 pre amp RCA outputs as well as a dual zone output. This allows you to use 2 zones - one using radio for example and the 2nd using a cd. One can be output to a unit with infrared headphones so the kids can listen to their music and the adults can listen to theirs.
I installed it with a minimum of fuss and then annoyed the neighbours for 5 minutes testing the volume levels and setting the EQ.
The main benefit right now - apart from better sound output and quality - is that the unit can read mp3 files on cds. So we can take our rather extensive cd collection with us in the car far easier than before.
Do you listen to music in the car? What is your favourite music? I'd have to say right now I am enjoying electronica music such as Hed Kandi, Ministry, and Gotan along with classics such as Dire Straits, U2, Metallica, and a wide range of classical music.
Tuesday, September 14, 2004
Funny Girls
My little girl Jadeen was so cute tonight. She has a small notepad and she has it closed with a fluro pink bankdaid. She came up to us at bedtime and offered to read us a story.
"What sort of story do you want Daddy?" I requested an action one. She opened the bandaid flipped through her pad (of blank pages) selected one and started to read. she told me about the Dad who did some actions. She even did some for visual effect.
Finishing that she asked Mum who requested a funny story. Once again the flipping through the pad until she located the 'right' page and then out of her mouth came the funniest story about clowns. Two of them. Twins actually called Josie and Josie. They lived on a clown farm. The whole thing was hilarious.
Following this was a story about a baby dragon, with Erin providing the actions this time. Dad and Mum were the parent dragons and we were asked to participate by "coming on stage".
This child has a career in narrative and imaginative story telling!
Monday, September 13, 2004
I was right - Federer won
Well played Lleyton, but hopelessley outgunned. Federer is amazing!
I think this bloke could be better than Pete Sampras, Lendl, Becker, Cash and the like.
End score was 6-0, 7-6 (5-3), 6-0.
That is a hiding.
In Formula 1 news Ferrari had a 1-2 win but Barichello got first not Schumacher leaving the championship wide open. Go Kimi.
us tennis open - 5.5 hours to go
I am going to bed now. In 5.5 hours I will wake and watch Federer and Hewitt do battle royale!
Sunday, September 12, 2004
Federer to meet Hewitt in US Open 2004
Now I am in a quandry. I picked Federer to win and would love to see him do it. But I really want to see Hewitt win too. Lleyton is the little Aussie battler with a big heart and guts. I think Federer will beat him but I would love to see it go to tie breakers in each and every of 5 sets!
I stayed up most of the night watching the footy and then the tennis.
The Geelong Cats beat the Bombers also. Gary Ablitt Junior is shining for the Cats just like his old man did. If he was to beat the Lions next week (higly unlikely) he would be a legend at an early age.
Saturday, September 11, 2004
Big Day Out
Today is September 11 - anniversary of the tragedy in New York.
Today was also the Shine Womens Conference at our church.
Judith went to the conference and took Mercedes - so I looked after the others
Here is the story of the BIG day.
It started at 6:30 when I got up and took Miranda to horseriding.
Here she looked after and prepared horses for riding before mounting up, practicing her 2-point seat and then trotting and walking round the ring and over the bar.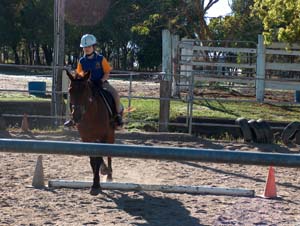 Then home to pick up the rest of the family and then off to church to drop Judith off. While there I took a few photos of the conference.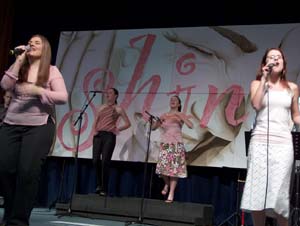 Off to McDonalds next for a late breakfast and a chance to do some emails on the laptop while the kids played in the playground. Changed the first wet pants of the day. From here to a special kids playground called Kidspace. This is an awesome under shelter climbing space with slides and sand and different skill levels of climbing all done to an Aussie Woolshed theme.
Here are some photos of the girls there. Changed second wet pants.



Then in the heat of the day we headed to a nearby shopping mall for lunch and some airconditioning. After a good look around the National Geographic shop we headed off to Sandgate to visit with Serge and Tanya and Elijah. Changed third wet pants.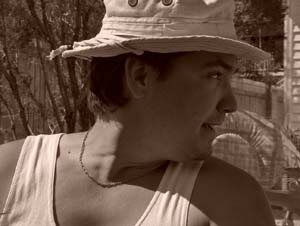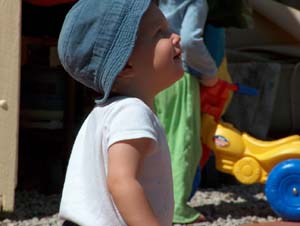 While at Serge's place we went acrross the road and down onto the sand flats at Sandgate. We wandered across the sand til we got to the waters edge, splashed in the water and wandered back again. Heres some pics of what the kids found. Changed wet clothes.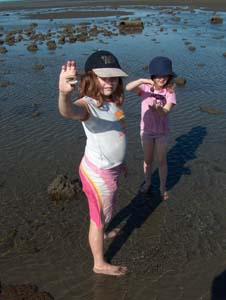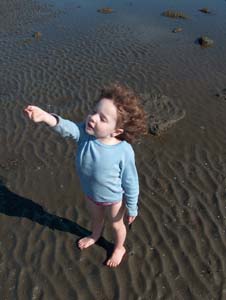 Finally we headed back to church to pick up Mum and some more photos of the shine conference including some awesome pics of flower paintings done by some ladies in the church.


I snapped some pics of Mercedes with Olivia and also of Olivia with her mum Catriona.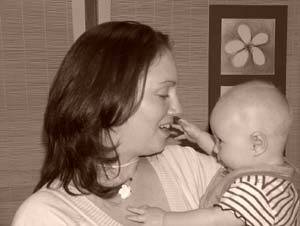 Once we got home I cooked nachos, we ate and then I had a nap on the couch. The kids woke me with a nice massage before I wrote this. in 20 minutes I am going to watch the Geelong Cats play the Essendon Bombers for a place in the semi finals.
Last night I saw the St Kilda Saints over power and take out the Sydney Swans.
It is shaping up to be a Port Adelaide Power vs Brisbane Lions Grand Final. Come on the Lions!
Friday, September 10, 2004
Federer wins in US Open 2004
Only one match to go now. Federer defeated Andre Agassai in the semi final and now faces Henman in the final. While I give Henman a deal of respect, I am backing Roger to go the distance. Go Federer!
Thursday, September 09, 2004
Training
I am doing Excel training.
It is good work and I enjoy teaching others some of what I know.
It is great hearing people say "Thanks for that - I can really use that stuff".
Its also good getting paid for it!
Tuesday, September 07, 2004
Overloaded
Currently I have a lot of projects on the go. I have deadlines due and I will make them. I also have to plan the next 6 weeks work carefully so as to make sure I fit my family in also.

To do list:
Report writing job - agree specs for database fields and design and build. 1 1/2 days work all up.
Training - 3 days of Excel training that I am running for a client.
Specifications for annual budget maintnenace for a client - meeting, review and estimate writing, followed by working. It is expected to be around 3 weeks work.
Annual accounts liaison with accountant for a client whose monthly reports I preparare. 3-4 days.
Monthly accounting for the same client. 3 days for August and 3 for September.
Finalise Business Plan work for the coal mine, followed by conversion of their budget into a new system. 3 weeks? This can slide into November fortunately.

I was supposed to go to a 3 day convention in that time also - fat chance now.
Then there is 6-8 hours or so of web changes for the church, potentially a weeks worth of donated time consulting to the church on financial organisation and management issues, a LAN party, my birthday, my daughters, mothers, sisters and fathers birthdays (not in that order) and some time I need to sleep.

So last nights game playing binge was a form of procrastination.
Tonight I wrote the list.
Tomorrow I get started; tomorrow never comes - Yippee! Rats its already 12:45 am! Tomorrow is here...

PS regular blogs I read. I will read your blogs in RSS or atom format in trains and planes (but not while I'm riding the mortorbike) so forgive me for not commenting on your sites. I will get back to some normality in 2 weeks when the first wave of pressure is off!
Monday, September 06, 2004
Scared
I was scared this afternoon. So was Miranda.
I took the three girls for a ride to the shop. This means Miranda and Jade go ahead on their pushbikes while Erin pedals her tricycle slowly and I ride beside her. All went well until we got to the level crossing for the train. Erin refused to ride over and so I carried her. After she refused to ride and I pushed her trike while riding slowly beside her til we got to the shop. Tears quickly disappeared as they all enjoyed a treat.
Coming back she refused to ride, refused to let me push her and refused to tell me why and refused to let me pick her up. In the end I picked the whole trike and Erin up and started riding. Just as I got to the train crossing Erin's sandal caught in the rear wheel spokes and her foot jammed against the rear stay. I thought she may have broken it so called Miranda back and asked her to take the trike home, and bundled the screaming Erin into my arms and rode the 500 metres home. Inside I got her onto the couch and inspected the damage and got ice onto it. I got Judith to go and get Jadeen and Miranda. Miranda was very scared being in charge and not being able to ride her pushbike and the trike at the same time was upset.

End result - Erins foot is neither broken, sprained or even bruised, though bruises may yet appear. She is running around on it and riding her trike round the yard.
All's well that ends well!
Sunday, September 05, 2004
Predictions
I am going to preidct the following results in my favorite sports.
Roger Federer will win the mens US Open and win 3 grand slams in 1 year.
Serena Williams and her funny shoes and stay dri denim skirt from Nike will win the womens.
Michael Schumacher will win most of the races but Kimi Raikonnen will win the F1 championship.
The Brisbane Lions will beat the Sydney Swans in the grand final of the AFL.
Manchester United will win the FA Cup

Bold predictions I know - lets see how I go.
Federer Defeated Sanotoro
What a game!
6-0, 6-4, 7-6 With Sanotoro forcing the tie break in the 3rd set.
Federer made it look easy though.
Mary Pierce pltying Shapirova now - I would love to watch but really need the sleep.

Roger Federer is a brilliant tennis player
Well I was going to go to bed.
But I flicked on the TV hoping to catch the end of the footy and instead found myself 1 game into Roger Federer vs Santono. Federer broke serve in the second game with a brilliantly executed long rally. The third game was just marveloous tennis to watch. He is so precise and plays balls, not right to the edge, but close enough that he can hit them both sides of the court with precision as often as he wants and the other bloke is left running round like a turkey all day long.
I think I shall stay up and wath his clinical execution of tennis - a joy to behold!
KROSTech LAN Party
Ran the LAN tonight.
It was good!
In fact it was great.
Had lots of fun.
Played lots of games.
Ate lots of pizza.
Came home late - now I'm going to bed.
Saturday, September 04, 2004
Photo Friday - Simplicity
Photo Friday Simplicity
Friday, September 03, 2004
Eggplant and Mushroom Ragout
I have no idea what to actually call this dish. It is a dish I make when I cook for myself.
Ingredients
1 and half left over sausages from fridge (or whatever other meat you can find
2 cloves garlic
some ginger root
some eggplant - handful or so cubed
6-8 mushrooms - chopped coarsely
2 tomatoes cubed or sliced thickly
1 chilli
some basil
same tarragon
olive oil
some cabbage (to your requirements)

Process
crush the garlic and ginger and lightly saute in the olive oil on low heat in heavy base fry pan
throw in the eggplant and mushrooms and cover for several minutes while turning up the heat to medium - stir occasionally
boil a little water in a pan - throw in chopped cabbage with a cube of butter cover and leave on low heat for 10 mins
once the mushroom starts to blacken throw in the meat, then the tomatoes
sprinkle the herbs in
allow the pan to steam a little with the lid closed then throw in the chopped chilli and close lid
put bread in toaster
slice some cheese while bread is toasting

Preparation
butter toast and lay slice cheese on and layout on plate - i use 4 slices of toast
cover with the mushrrom and eggplant dish - then top with the drained cabbage - if you have some sour cream that goes nicely on top

Eat in front of the footy with a glass of iced lemon late at night while the rest of the family is sleeping!

Go the Brisbane Lions!
Thursday, September 02, 2004
Half Naked Thursday
Wednesday, September 01, 2004
Browsing
I found these sites tonight
From Tim this funny chart about the internet - hope it doesnt apply to my site.
And from him I also located Steve Camp's website. I listened to Camp's music all through late teens early 20's. He still makes sense now in hiis blog. I like his no nonsense approach and down to earth logic.

Business, Money and God
Hamo inspired this post with his.

First off money is like oxygen in todays world.
You are mad if you say you don't need it.
However I think the issue in middle class suburbia is their lives are about getting money. Its their focus, and when they haven't got enough then they whine.
I think our calling is to;
1) Remove the focus on the getting or acquiring of money and understand that God provides - really trust him for that. I guess as business owners we have really come to understand that by not having a guaranteed wage. In fact going further I believe that as I honour god in my personal life he honours my businesses and blesses them.
2) I think that helping others unreservedly and without personal regard to the cost is so foreign and different to the general grasping nature of most middle classes (I generalise) that we can stand out that way also.
I am reminded of the verse James 1:27, "Pure and undefiled religion before God and the Father is this: to visit orphans and widows in their trouble, and to keep oneself unspotted from the world"