Tuesday, June 29, 2004
Gifts from the Heart
My children are a delight to my heart
This weekend gone I made sure that I spent special time with each child, just playing with them.
I helped Jadeen get more confident on riding her bike - now the training wheels are off.
Erin just wanted cuddles and playing - she loves being spun around and cuddling close.
Miranda played some checkers and also cuddled.
Mercedes just likes to look at play finger grabs and giggling. She is a real cutie and so happy.
I even spent some quality cuddling time with the wife watching Billy Crystal and Robert DeNiro in Analyse That! A hilarious romping good comedy.
All in all a fantastic weekend, especially seeing as we entertained saturday night, sunday lunch and sunday night!
The kids and I spent Monday morning doing chores. Cleaning rooms, emptying rubbish, sweeping the patio and tidying away toys.
Work first play later is the motto they are learning.

Saturday, June 26, 2004
Poem - Strangers
Strangers (are only unmet friends)

Kaleidoscope of sound
Punctuated by a brief moment of clarity
Inspiration comes
As a blur of thought
Unconnected souls
Joined in time

Architecture seems animated
As the pulsing music flows
The background stops
Realigns and continues to spin
Unconnected souls
Move on

(c) Timothy Miller 2000

Doug inspired me to post some more poetry with his poem

Photo Friday - Clouds

Photo Friday challenge for this week.
Friday, June 25, 2004
Museum Rant
Monday I took the eldest two to the Museum. Specifically to see the Chinese Dinosaur Display. The girls were very excited to be going to see the dinosuars. We worked out prior to going that viewing this display was going to cost $28. So off we went. When we got there the display was on the second level so we worked through the first level first.
There were turtles and vehicles and quite a few dinosaurs here and this was all free. When we finally went up to the second level the first part was this display, and at the entrance you had to pay your money. After a bit of negotiation we got in for only $20 which I thought was a good saving. However once in there we were confronted with 12 massive reconstructed dinosaur skeletons with stark metal halide lighting and the odd red banner hanging down (presumably the 'chinese' connection) I dutifully photographed as much as possible and long before I had finishing photogrpahing the first 6 both girls were bored and wanted to leave this exhibit through the turnstile. I made them wait while I got my moneys worth of photo's and then had to finish early anyway for a toilet break. Total time in display about 10 minutes or $2 a minute.
The rest of the museum kept the girls entranced as they explored drawers of bones and fossils and birds eggs and stuffed animals. They had a ball exploring the interactive dsplays of australian animals and other displays.

Next time I won't bother paying for the special exhibit and just spend the time in the free part.
Wednesday, June 23, 2004
Computer Sick Days
Computer 'sick' days revealed
Personal computers in Northern Ireland take more sick days than their owners, research suggests.

Full article at The Register
Tuesday, June 22, 2004
Genuine Monday Meander
I know its Tuesday but I read the post from Monday today and decided to take a monday meander on Tuesday) like Genuine said to.

So first I popped on over to Amberbamberboo where I found this hilarious joke about a black man in a desert - read the whole post. She has a real great dialogue with her daughter.

From there I hyperlinked on over to Nothing To Declare to read all about the food this lady makes. Made my mouth water and I already live with a fantastic cook!

Next I trotted along to LJC to discover she just got married. Nice.

On to a 4th blog. Waking Dreams where he relays a story about an ebay ripoff - almost. Good detective work to avoid a scam Matt.

Finally I checked out One A Day to see how good her husband is at woodwork. He's good!

So go on - have a go - take a Monday (or someother day) Meander and wander off to 5 new blogs and then tell everybody what you found.
Monday, June 21, 2004
Travel
Away again - but this time I'll have my laptop with me - though its hard to say its mine - some parts are familiar - the keyboard is anyway - that and the hard drive and cd drive are the only bits not replaced at least once so far! Its 18 months old!
I am going to find some fun things to post while I am away - for my amusement as much as yours.
In the meantime check the photo blog for the cool picture I took of some finches while at the Museum with th kids today.
Emerging Church - Books
Saturday, June 19, 2004
Rugby
I am watching the New Zealand vs England match from Eden Park in New Zealand.
Already a dirty English player has been sent off for kneeing an All Black in the back while in a ruck.
Dirty dirty dirty...
Go the All Blacks!
Photo Friday - Fashion

This is posted for todays Photo Friday challenge titled Fashion.
I took this photo 29 May 2004 at a fashion show in the local mall.
Thursday, June 17, 2004
Bush Shoot Out
Monday, June 14, 2004
Away and Laptop Woes
My laptop died on sunday night (for the third time in 1.5 years).
I will be away for the next 4 days and won't have internet access - so no posts til I get back.
Church Management - Oxymoron?
I have just accepted a position on a committee for our church board. I have been appointed for my management expertise. The committee is looking at some specific issues that need to be resolved, and I can see why my management skills will be needed and used.
My question is this; how much of business management can be translated into church management?
Should we manage churches in the same manner as businesses, that is, is the accountability and reporting structure used in business the same? Are KPI's really necessary in a church environment and if so, should they be what a pastor's performance is measured on?
Real Live Preacher makes this interesting by demonstrating the soft side to church in his post All the Right Questions
It will be interesting applying business management processes to the church structure. I am sure I will learn a lot.
Sunday, June 13, 2004
Photos of Wetlands
I took a series of photos at the wetlands this afternoon. We visited just on dusk so I could have some really good lighting conditions for photography and it didn't disappoint.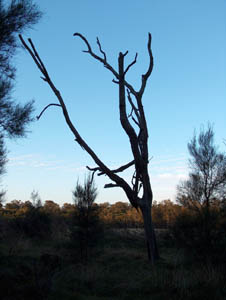 Dead tree.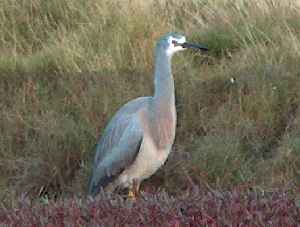 Water bird - I think a white faced heron.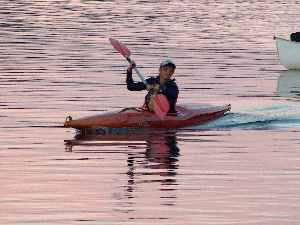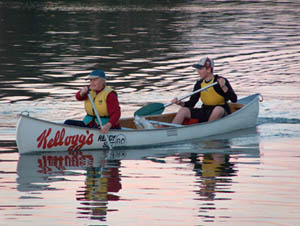 Boating activities.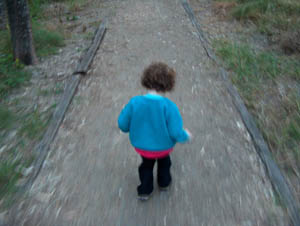 Erin running.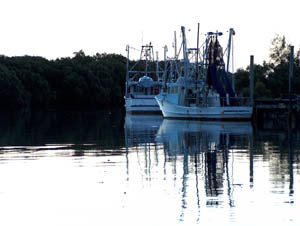 Fishing boats at rest.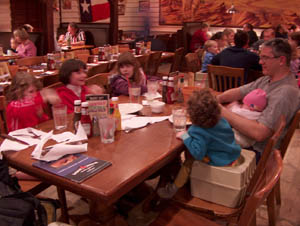 We finished up in my favourite restaurant - Lonestar Steakhouse.
Saturday, June 12, 2004
Photo Friday - Journey

Click Photo to see large version.

This picture is myself, brother David, sisters RuthEllen and Priscilla and their husbands Jon and Sjoerd (AKA George), my cousin Bradley and his wife Greer carrying my Grandma's coffin back in April 2004. Following behind is my Aunty Jan and Uncle Graeme.
This was her last journey on earth.
This is posted for todays Photo Friday challenge titled Journey.
I have also posted it on our photo blog in a larger version.
Thursday, June 10, 2004
Photos
We now have several photos in the new Photo Blog
Enjoy!
Baby Laughing
Listen to the cutest sound in the world - my gorgeous 4 month old today baby laughing.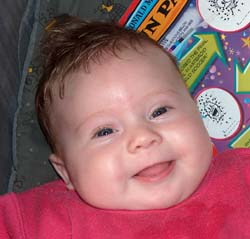 Wednesday, June 09, 2004
New Photo Blog
I have created a new Photo Blog for recording the good pictures we are taking. I guess now we are photobloggers!
The link is in our blogroll also.
Enjoy!
Tuesday, June 08, 2004
More Venus Pics
These are awesome pictures courtesy of TRACE.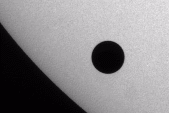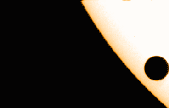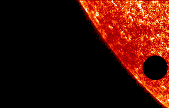 Venus Transit
Today is historical in that it is the first time in over 100 years that there is a transit of Venus across the face of the sun. This happens in 2004 and 2012 and then won't happen again until 2117.

Here are some good links to view this on and also to see archived footage (hopefully) as well as detailed explanations etc.
Transit Headquarters
Exploratorium
The Institute for Solar Physics
European Southern Observatory

I have downloaded videos of the event if any body wants them. Just ask me in the comments.

Pictures courtesty of the The Institute for Solar Physics


Work and Photos
I'm home for a week and I have more work to do then when I'm away working. I have 2 days for the client that I travel to, including going to their head office here in the city on Friday, another 3 days for another client and another half a day for another client. This all has to be fittend in to the next 4 days.
Plus web page development is urgently in need for church...
I will post the pictures I promised you sometime soon...
Hang it - heres a teaser - heres some of them.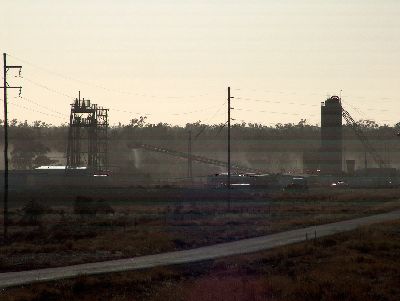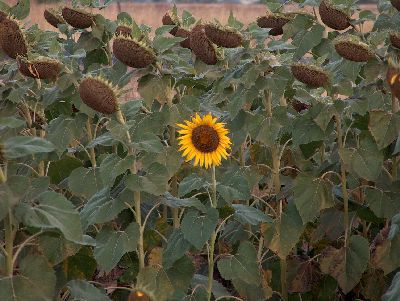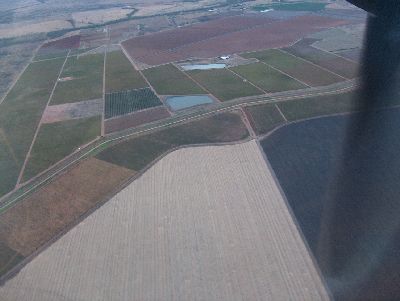 Monday, June 07, 2004
Ronald Reagan's Last White House Speech
Wish List
Must read! In my opinion - yours may differ.

Do you want to be able to do any of the following and frustrated that Microsoft Windows can't help you?


The ability to log in to all our favorite Web sites with one password.
Spam blocking for our e-mail accounts.
Calendar sharing with colleagues and friends to schedule meetings.
Automatic address book updates for all our contacts.
A virtual hard drive on the Internet for sharing files, photos, and music with our friends and access to these files via the Internet while traveling anywhere in the world.
Synchronization of our Internet bookmarks across all our computers.
Online profiles of personal information that we could choose to share with Web sites and social networks.
Regular backup of files to a storage site on the Internet.
Regular application and system- security updates.
One-step migration of files and programs to a new computer.


Jeff Reifman explains in his article regarding his history with Microsoft (including being an employee) why he has switched to a Mac because they can get all this and more!
I'm that close to switching its not funny - small problem with the investment in PC's though...
Thanks Russ for the link.

What do you reckon? How much time a day do you waste waiting for Windows? Reboots, crashes and hangs, unexpected application faults etc. I am glad this blog is hosted on a Linux server - that has performed faultlessly since built snd commissioned in July 2003. In fact it has only gone down three times since then, once to move house, once because I wrongly thought it had crashed (ADSL router needed resynching) and once because we had a 12 hour power outage - the UPS doesn't last that long! Thanks RDSSA for building and maintaining this system so well! Even system updates - one was done yesterday remotely by Rohan - don't require a reboot and you would have noticed no change to the service offered.

Is Windows finally starting to lose it?
The big question is this.
Will you upgrade from Windows XP to Longhorn?
Please comment with Yes or No (and any other comments you wish)
Sunday, June 06, 2004
Photo Friday : Landscape
I took this picture Friday 4th June on the way to the mine in the morning. It is a giant dozer blade set against a backdrop of an open cast mining overburden mound.


I submitted this picture to the Photo Friday Meme.
Saturday, June 05, 2004
Home and LAN
I'm home but I'm offline at the LAN
Will post picture journals of my last trip next week.
See ya on Sunday!
Thursday, June 03, 2004
Camera
For those who want to know the new camera is an HP Photosmart 945
It is a 5.3 Megapixel digital camera with 8x optical and 7x digital zoom. The insurance company gave it to us in replacement of the previous camera, an HP Photosmart 320.
It is really a fantastic camera and has lots of awesome features. I am experimenting with focal lengths, shutter speeds, exposure settings and white balance adjustments. The photos of the tennis were taken with a shutter speed of 1/30 at night using the tungsten white balance to counter the glare of the lights on the tennis courts. I found that any quicker shutter speed wouldn't let enought light in and gave me a grainy shot, whereas slower was too slow for the action.
I need to buy some magazines on digital photography to steer me along a little.
I guess I could also ask Darren Rowse of Blogger Idol Fame becuase he has a digital photography blog.
Wednesday, June 02, 2004
Tech Gadget
The X-Key is a seriously cool tool.
Thanks Russ for the link.
War in Iraq Success
Russ Lipton at Coffeehouse posts this quote from Andrew Sullivan about the success of the war to date.

If someone had said in February 2003, that by June 2004, Saddam Hussein would have been removed from power and captured; that a diverse new government, including Shiites, Sunnis and Kurds, would be installed; that elections would be scheduled for January 2005; and that the liberation of a devastated country of 25 million in which everyone owns an AK-47 had been accomplished with an army of around 140,000 with a total casualty rate (including accidents and friendly fire) of around 800; that no oil fields had been set aflame; no WMDs had been used; no mass refugee crises had emerged; and no civil war had broken out... well, I think you would come to the conclusion that the war had been an extraordinary success.

Tuesday, June 01, 2004
Travel By Pictures
Today I headed off again via plane to the coal mine.
The following pictures include travel to the airport in the rain at 5am, in the plane, looking at the plane, and then watching Steve and Lisa play tennis after work was finished for the day.