Saturday, July 31, 2004
Blue Sloth - Book Publishing Petition
OK
This is the first time I have ever demanded that you (my dear reader - yes you - yes with your finger pointing at yourself and the slightly amused look like a small child caught with their hand in the cookie jar and mouth open as if to say in a bemused tone "Moi?" that you PLEASE do something special. (Note I said please when I demanded but I really mean

DO IT NOW DANG IT!

)


Go to the BLUE SLOTH
Read the prelude of his book - check the rest of his site out for more fascinating bits of the book.
Demand that a publisher publish it so you can buy it - all three parts of the trilogy.
Comment on this post so Phil can show your comments to his publisher.

Thanks - and no more demands from me OK.
Sit back - have a Kit Kat. (after you did what I said.)

Soccer woes
The good news is my groin held together well. I have a massive bruise on my left inside thigh from last weeks injury. It didn't stop me from playing, though it did limit the strength of my left foot.
Still I played a fantastic first half if I do say so - including an almost goal. It came off perfectly bar the final execution. I hung outside the 18 yard box on the far post from a corner kick. I waved to Nathan as he prepared to kick and started my run in heading straight for the penalty spot. The other teams little weasly fast runner winger (about 70kg in weight) stepped right in front of me. I looked at him sadly as I accelerated to full pace and ran straight over the top of him smashing him to the ground. This put me right in place for the kick wich was now dropping over the heads of the three guys in front. I rose up and hit it squarely with the side of my forehead directing it with some force to the near post only to see it it go straight over the line about 2-3 feet wide.
Dang that was close!
The bad news is we ended up losting 6-1.
Photo Friday - Sunset
Photo Friday challenge picture taken yesterday just as the sun was setting. ( I think thats why its called a sunset!)

Friday, July 30, 2004
Blogswap 3: Open Assignment
Warning - the following post is satirical in nature! It was written by Ochuk.


Ochuk's Blog is an amorphous mix of theology and humor. I don't expect too many people to take me seriously, but you will find some depth and encouragement from the odd meanderings of 25 year-old journeying through Classical Reformed theology and the Emerging Church culture.





The Purpose Driven phenomenon has become the next wave of spirituality in the 21st century. Purpose Driven

merchandise

is selling like mad, and Rick Warren knows that this wave hasn't even begun to break. Word on the street has it that he is working on another book called the Purpose Driven Wife: Why On Earth Did I Marry You? Here's a brief synopsis of what to expect from Warren's new marriage-saving manuscript:

You Were Made For Marriage

It is not God's will for you to be single. God made you in the Garden of Eden for a man-- to be the bone of his bone and flesh of his flesh. A man doesn't leave his father or mother for nothing. You are the reason why he leaves his parents; he leaves to be joined to you. Sadly, today's women are taught to be single, pursue a career, and then get married. But this worldview comes from a worldly perspective propagated by shows like

Sex and the City

. God knows you can't work in the real world because he didn't make you for that. He wants you married and pregnant by age twenty, otherwise robust, virile men will get tired of living with their parents and will be impotent by the time you marry one. A woman who isn't under a man's authority is not really a woman at all. This leads us to the next purpose of your life.

You Were Planned For His Pleasure

The second great purpose of your life is to fulfill your "marital duties" to your husband. Not only so, but your body actually belongs to him so you should not deprive him in any way. Many women believe the that their bodies are their own, but the truth is the husband is the owner. Now when you own something, you like to own something good. No man wants an unattractive wife. The Patriarchs all had wives that were "very beautiful." Sarah, Rebekah, and Rachel all were pleasing to the eye and, therefore desirable. Remember the story of Jacob, Rachel and Leah? Leah was not that good-looking and wasn't worthy of love. Have you ever wondered why men don't fall in love with you because of your brain? The answer lies in the mystery of creation: Men don't want a woman to be smarter then them. It makes them feel inferior and unnatural, because women are supposed to be the weaker sex. You were made to look pretty so that men will enjoy you and want you to have their babies. This leads to the next purpose of your life.

You Were Formed to Make a Family

God didn't give you a uterus for nothing. He new what he was doing with those Fallopian tubes. Your period is not a aggravating curse, but a gift from hand of the Lord. When you were a teen-aged girl, I'm sure you were shocked to find out all the different ways your body worked. It was all part of God's plan is to get you to realize that you are to have children. The Bible says that women are saved through childbearing. This means you are to have lots and lots of kids. Childlessness is unacceptable in the sight of God. He gave you a gift and expects you to use it. Remember the parable of the talents? Two of the men put the master's money to work while the other one burried his in the ground. The one who burried it was called "wicked" and "lazy" by the master when he returned. It is obvious from this parable that women who don't have kids are lazy and immoral. If you forsake the role of motherhood you will not be living the life God planned for you. This leads to the next purpose of your life.

You Were Created to Become Congenial

The greatest quality in a woman is here gentle and quiet spirit. This is the fourth great purpose of your life. No man will be pleased by a grumpy wife that complains when he asks her to make him cookies. Don't be someone who is sad. If you are feeling down, put on a happy face anyway because everyone will feel better when they're around you. Women that are loud and fun-loving are aggressive and manipulative. Instead of being quiet and submissive, these women forsake the what is precious in God's sight: being subservient to every demand people put on you. This leads to the next purpose of your life.

You Were Shaped for Serving Your Husband and Church

Many people today think that sitting at the Lord's feet is the most important thing you can do. Tell that to the Proverbs 31 woman! She sets about her work vigoroulsy with strong arms and eager hands which she extends to the poor. She rises early in the morning and goes to sleep late at night all for the purpose of providing food on the dinner table for her family. She is active in 4 different programs in church. She leads small groups, works in the nursery, and helps make refreshments for the hungry seekers who come on Sunday morning. God doesn't want you to sit around and watch soap operas. He wants to pile on as much work as you can handle. The busier you are the more spiritual you will become.

Isn't it fulfilling to be able to finally answer that nagging question, "Why on earth did I marry you?"





My entry will be posted on Joe Missionary.


To view the rest of this week's entries, click here.


Would you like to BlogSwap? For more information visit Challies.com.

Thursday, July 29, 2004
Half Naked Thursday
Following the tradition set by the Blue Sloth and carried on by the crazy Juggler, Pyscho mum Cathy, Judith and Krystal I once again post my body on the internet in a shameless attempt to display my sexy legs.

Robin Good
Wednesday, July 28, 2004
Home and feeling better
Came home early this week - and working from home now.
Reinstalling software continues!
Got the right medication and feel a lot better now.
Thanks for the wishes of support.
Tuesday, July 27, 2004
away and sick
I am away again. I got of the plane and my sinuses went into overdrive.
It would seem there is a small waterfall in my head and the only exit is through my nose.
Rebuild Progress 4
All drivers installed for main peripherals (gaming ones excluded at this point); sound, video, monitors, keyboard and mouse.
Office installed and activated.
Email files connected - but email accounts not yet set up.
Some network drives mapped and shared.
Printer installed and shared.
CD burner installed.
Norton antivirus installed and updated.
Rest to be done after I get back from travelling
Now only to copy email files over to the laptop and burn a music CD to take on the road.
Monday, July 26, 2004
Rebuild Progress 3
OK this is crap!
I have forgottern all the basics!
After reinstalling windows XP for the second time with the correct motherboard RAID drivers I still couldn't see the drives. Upon doublechecking the connections found that i hadnt actually reconnected the drives! Silly me!
So drives reconnected, and formatted - I now have 420Gb of hard drives in that machine.
Windows XP updates round 1 installed - onto the rest of the drivers.
Rebuild Progress 2
I've given up trying to install the S-ATA drives without installing the motherboard drivers first.
Read the manual and remembered that I forgot to select F6 when starting the Windows XP installation to allow additional RAID drivers to be installed.
Reformatted hard drive and started again.
Bummer!
Rebuild Progress 1
Hard drive formatted and Operating System installed.
I am a computer genius - NOT!
Today I purchased a new 120 Gb IDE Hard drive to go in my PC that has two S-ATA drives in a Raid array.
Only when I put it in I partitioned the wrong drive and lost everything!
Fortunately all the important stuff is backed up or on other machines, but still! I know better than that. Now I have an all nighter in front of me rebuilding the PC before I head for the airport tomorrow morning.

Apart from that it was great day - we played with the kites in the park and generally lazed around - 'twas good!
Funeral
One of the home group guys Mum died today. She had cancer. We had been praying for her and the boys for some time. He came over to see me and we talked briefly. Then we offered to make dinner for him and his dad and brothers as they only live around the corner.
I made pasta and bolognaise and pasta carbonara. I took it round and fed 5 men and 3 ladies. Bear in mind that at 183 cm and 105 kilos I was the smallest bloke there!
Interesting thing was I discovered some other good friends of ours had dropped around with food for them just a few days ago.
Now that's what church should be!
Sunday, July 25, 2004
My Tattoo
Seeing as we have posted photos of one of Jude's Tattoos I thought it would only be fair to post a photo of mine.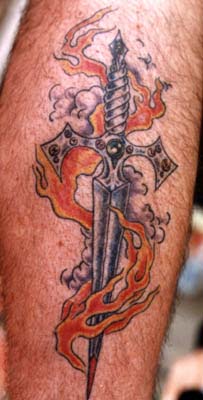 Project Blog
Two of my favorite bloggers are participating in Project Blog and raising money by sponsorship for charity.
It has started and they are posting at least every half an hour for 24 hours straight.
Check out Krystal and Cathy
Go girls!
Saturday, July 24, 2004
Brisbane Lions 2nd highest score
What a game!
The Brisbane Lions showed their absolute class when playing a weaker team. They didnt go soft when ahead, but kept going hard right to the end.
In fact they got their 2nd highest ever score in the AFL.
Brisbane Lions 29 15 189
Adelaide Crows 6 12 48
Thats 29 goals, 15 behinds for 189 points.
45 scoring shots on goal in 2 hours is an incredible effort. You would almost think the other team wasn't acutally on the field, yet to give them credit the Crows never gave up and played hard right to the end. They were just completely outclassed, out gunned, out tackled and out scored. Any more outs? Dunno but I'm struggling to find words to describe how well the Lions played.
Akermanis, Power, Voss, Lappin and Black are the fab five. They were the top players on the ground, there were no Crows even in the running for the statistics.
Go the Lions!
Soccer - Injury
Guess what position I was asked to play today?
You guessed it - Center Mid!
Our captain wasn't there today and the vice captain decided to keep and asked me to be the center man and create play fom the centre of the field.
About 5 minutes in while attacking the ball near the other team's goal I pulled a groin muscle in a tackle. As we had no substitutes I elected to stay on. I was reduced to a hobble and I couldn't kick the ball hard. However I could take a defensive player up (from their team) and I could play balls passed to me on to other players.
Towards the end of the second half I almost scored a goal from a corner while challenging the cross with the keeper. I got my head to it but he had his hands right there and saved it. We ended losing a closely fought game 4-3 with their last goal being scored with 5 minutes to go.
So now I am huddled up on the sofa watching the Brisbane Lions massacre the Adelaide Crows and after this game is finished I shall watch the All Blacks vs South Africa in Rugby Union. Great armchair football!
Hopefully my groin will be OK for next weeks game.
Little survey - what gane is your favorite and why? Add your comments.

Soccer - Football
It seems there is some confusion about my sports.
Lets see if I can make it more confusing
Football is played with a round ball in most places of the world - and is in fact the most watched and played sport - the world cup outstrips even the olympics in the number of televsion viewers.
In this country Football is one of 4 codes depending who you are talking to. The country's national game would have to be AFL or Aussie Rules. This is called footy or football by most people who follow it - predominantly the southern states of Victoria and Adelaide. There is a team in Sydney and two in Perth and one in Brisbane - the mighty Brisbane Lions who I follow with my daughter Miranda. They have won 3 premierships in a row and are going for their fourth.
I have played Aussie Rules for a local team the Strathpine Swans a few years ago.
In NSW and QLD, the most popular footy game would have to be rugby league. I don't care much for this sport but watch the big games occassionally.
The gentlemans rugby or Rugby Union is the biggest international oval ball game of all. The mighty All Blacks are the worlds best team! (Proud to be a Kiwi).
Finally there is the real football or soccer as its called here in OZ. I have played this sport since I was 7 with a few gaps for injuries and forays into other sports, such as basketball, competitive mountain biking, squash, AFL and triathlons. Generally I have played soccer at the same time though.
Currently I am playing indoor soccer and outdoor soccer.
Indoor I am playing with a team my company sponsors called Parklife; website and blog
This is played on Friday nights.
Outdoor soccer I played with my church team back in 1994 and 1995 and was coaching under 8s then also. We won a championship and premiership in 1995. I have also played for 3 other commercial clubs in Brisbane, Northstar, Margate and Deception Bay.
I am now back playing for Rivers again, playing in the church's number two team in the 3rd division of the QLD Baptist League. There are 5 mens divisions, 2 womens and the full range of kids leagues.
Today we play at 3pm. The last two weeks I have played as keeper. Today who knows; I may end up in the right midfield or as a back. I have played left and right midfield, left and right back, sweeper, keeper and center forward. The only position i havent played (and have no desire to play) is center mid.

Hope that clears things up a bit.
Friday, July 23, 2004
Home again home again jigitty jig
I love coming home!
The girls love having me home!
Life is great

And we won soccer again tonight
Photo Friday - Mother
Thursday, July 22, 2004
Tough Truths
This is the entry I wrote for Blogswap last week



You are being obnoxious! Be the real Tim.


I had heard these statements enough times before to understand that it meant that people didn't like the way I behaved, but unfortunately my social skills were not developed enough for me to manage my personality so as to avoid being told this.
For years as a teenager and into young adult hood, I had developed a facade, a persona that managed to get by in company, around older adults and employers, but amongst my peers and people who knew me well this didn't work quite as well.
I drove many of my acquaintances away and struggled to develop real close friendships. Even those seemed to be short-lived intense relationships, both with male friends as well as girlfriends. My personality was very intense and focused and not many people could handle that.
It wasn't until a very special friend, Ross and his wife Jan, loved me for who I was, and along with their family, who had obviously learnt from their parents, taught me that it was OK to be Tim that I was able to start developing the private personality that had stayed hidden behind the brash, arrogant and obnoxious persona.
Finally I had found people who accepted me as I was and encouraged me to drop the annoying characteristics and attitudes and learn to be more sensitive to the feelings and thoughts of those around me. Thanks Ross and Jan, Glen, Daryl and Mel, Brendan and Rosalie and Kayley.
Since then I have found numerous other people whose families operate the same unconditional love both within and without. I believe that the ability to develop and teach unconditional love in a family is the most important skill a father can pass on to his children. I see family relationships where the parents are emotionally immature and unstable and use the kids as bargaining chips against each other. This is destabilising to say the least.
I am thankful to God for putting Ross and Jan, John and Robyn and Terry and Diane in my path when I needed them. I hope that I can practice the same attitude and teach it to my children also. If I could be of help to someone the way they were to me that would be a fantastic reward.
Tuesday, July 20, 2004
Monday Meander
Today I kicked off from my wife's new site Cindy Maulkner where I found Cindy had been spying on Ben who has been chatting to Yvonne who has been rubbing her nipples so as to induce labour.
She has a cool link in Gnome-Girl and thats as far as I got tonight.

I'm travelling again so posts may be light.
Have a great Monday!

Monday, July 19, 2004
Tax
Nothing is certain in life except death and taxes.. and the absolute certainty that the person who answers the phone at the tax office cannot handle your call and will need to transfer you.
Today wasn't too bad I only had to talk to 2 people.
Friday I needed to go through 5 people and convince the last one that the person before them wasn't right when they tried to transfer me back!
Matters all dealt with finally.
Rant over until next time I need to call them (and that's another certainty!

Sunday, July 18, 2004
Judith's New Site
Well Judith has been busy.
She has created a new outlet for her creativity. Cindy Maulkner is an imaginary rookie spy who blogs!
She even surprised me with her talent for graphic art and web design by creating and changing the background on this site all by herself.

Photos
My girls - today.


Weekend Bliss
I finally took a break.
3 whole days and only 3 hours of work!
Friday I argued with the tax office and made various other phone calls etc.
(Warning: Rant follows - how come you can talk to 5 separate people at the tax office and the first 3 don't tell you that although they can't give you the advice you need someone else can, and then when they finally give in and put you through to the next person that they make you go through the same whole story before saying the previous person was the person you really needed. In the end I gave up - I will deal with it on Monday - maybe they will have had the weekend to collect their brains by then!)
After that I decided no more! Work is good for making money and paying bills and all but theres fun to be had out there!
We went off to the aquarium to pick up some fish food then a friends place to drop some vegies off, then to the park to play. This was followed up by indoor soccer. We got there early so the kids could play for a bit. Jadeen is a natural. Our game was a blast- we massacred a new team - we played well constructed football, great passes and goals!
Then as we left to head off for dinner Jadeen wanted to go over the story bridge, a cantilever suspension bridge over the Brisbane River. So we went the opposite direction, followed our noses and found a great gourmet seafood place that made fantastic fish and chips. We dined in the car! Spontaneous eating can be good fun.
Saturday I played with the kids in the morning before heading off to outdoor soccer. I ended up keeping the whole game, and let one little tiny mistake of a goal in and that was it - 1-0 to them... it was a great game though and I made heaps of good saves and the goal wasn't really my fault; it was off a save I made that deflected off the post, then off a foot and scrabbled around in the goal mouth before I dived on it and basically rolled it through in front of my despairing oustretched hands.
Following this I went to play car racing at a LAN. Awesome. Jamie and I were the third best team and I pulled off some blistering lap times so was very happy overall.
Today (Sunday) I took the eldest two kids to sunday school, had a ball singing in church with Josh, then came home for roast beef and vegies (Yum thanks Jude), chatted to Shayne who came for lunch, and cleaned out the fish tanks and put fresh water in and then kicked back on the floor in the lounge with the kids most of the day doing nothing much at all. Just veging, playing and relaxing and ignoring the mounting workload for the next three weeks.
Even spent an hour on the phone to mum in NZ who has just got home from a 4 month round the world expedition!
More great food for dinner including a Ribena spider!
Now Im clearing up blog entries and reading I'm behind on and getting ready for the workload to start again.

Love and Fear
This from Misprinted Type

Two people get to know each other.

Hands shaking, sweating body, butterflies on stomach. They pretty much know there is something speacial about each other. But what is it? And what if it doesnt work out? What if the butterfly feelings disapear and give place to tears. what if?

Two scared people get away from each other


Thanks to Krystal for the link

Saturday, July 17, 2004
LAN Games
I'm taking a 2 minute break in the middle of a LAN.

We played 100 laps of Bathurst (V8 Supercars 2).

Now we are playing Unreal Tournament 2004 - Invasion.

Awesome!

Back to it.


Photo Friday - Ocean
Friday, July 16, 2004
Blogswap 2: Tough Truths
Today's guest article is from simplegames.blogspot.com
My post is being hosted on matt-hall.net

Most of my questions about Christian subjects stem from Biblical concepts in the Bible that seem contradictory. One of the first cases of this that plagued me was the story of Jacob and Esau. God favoured Jacob over his identical twin, Esau, even before they came out of the womb.

As it says in Genesis 25:20-26:
And Isaac was forty years old when he took Rebekah to wife, the daughter of Bethuel the Syrian of Padanaram, the sister to Laban the Syrian. And Isaac intreated Yahweh for his wife, because she was barren: and Yahweh was intreated of him, and Rebekah his wife conceived. And the children struggled together within her; and she said, If it be so, why am I thus? And she went to enquire of Yahweh.
And Yahweh said unto her, Two nations are in thy womb, and two manner of people shall be separated from thy bowels; and the one people shall be stronger than the other people; and the elder shall serve the younger. And when her days to be delivered were fulfilled, behold, there were twins in her womb. And the first came out red, all over like an hairy garment; and they called his name Esau. And after that came his brother out, and his hand took hold on Esau's heel; and his name was called Jacob: and Isaac was threescore years old when she bare them.

The Bible also says that the Father hated Esau. Yahweh doesn't go around hating people for no reason. I believe that He strives to love all men, and is grieved when they make a choice to seek death instead of His love. But there are men so against His nature that He hates their actions and their choices, and they themselves. I have to believe this because the scriptures say it.

Malachi 1:2-4 sets it out clearly:
I have loved you [Israel], saith Yahweh. Yet ye say, Wherein hast thou loved us? Was not Esau Jacob's brother? saith Yahweh: yet I loved Jacob, and I hated Esau, and laid his mountains and his heritage waste for the dragons of the wilderness. Whereas Edom saith, We are impoverished, but we will return and build the desolate places; thus saith Yahweh of hosts, They shall build, but I will throw down; and they shall call them, The border of wickedness, and, The people against whom Yahweh hath indignation for ever.

It would seem an injustice to favour a person before they even had time to be righteous, while condemning the other before they sinned.

But our Father isn't unjust, so there has to be some solution to this mystery. To me, the answer is partially contained in the fact that our God does not operate under time like we do. He is in the present, able to see the beginning and end of a life in one glance. This thought helps to satisfy my mind, in that He saw the actions and decisions of Esau before his birth, and planned accordingly. It's a question involved with free will and predestination. Esau made the choices, but Yahweh already knew what they were.

Another answer in why God chose Jacob rather than Esau, was His sovereignty. This concept is highlighted by Paul, when he explains the Jacob and Esau story in Romans 9:10-22:
And not only this; but when Rebecca also had conceived by one, even by our father Isaac; (For the children being not yet born, neither having done any good or evil, that the purpose of God according to election might stand, not of works, but of him that calleth;) It was said unto her, The elder shall serve the younger. As it is written, Jacob have I loved, but Esau have I hated. What shall we say then? Is there unrighteousness with God? God forbid. For he saith to Moses, I will have mercy on whom I will have mercy, and I will have compassion on whom I will have compassion. So then it is not of him that willeth, nor of him that runneth, but of God that sheweth mercy. For the scripture saith unto Pharaoh, Even for this same purpose have I raised thee up, that I might shew my power in thee, and that my name might be declared throughout all the earth. Therefore hath he mercy on whom he will have mercy, and whom he will he hardeneth. Thou wilt say then unto me, Why doth he yet find fault? For who hath resisted his will? Nay but, O man, who art thou that repliest against God? Shall the thing formed say to him that formed it, Why hast thou made me thus? Hath not the potter power over the clay, of the same lump to make one vessel unto honour, and another unto dishonour?

God made Jacob and Esau. He fit them into a purpose all His own. In His sovereign power, He had mercy on the one who tried lived in righteousness, and condemned the other who chose his own will over his God. He elected Jacob to His service. This is still a hard concept, but He is supreme. He decides. It's a mystery. Thankfully, our Father helps us to the answers to our questions, and improves our faith in His power by keeping us in ambiguity also.

Check out my blog at simplegames.blogspot.com

Would you like to BlogSwap? For more information click visit Challies.com.
V8 Supercars 2
I have bought a new game - V8 Supercars Australia 2. It is pretty jolly good. I also bought a Logitech Momo Racing Force Feedback Wheel, and it is reallly good!
I also play online - look for the user NEUROTech[KT] - I am not that good online yet, though I did come second tonight in a couple of races.
This weekend we are playing the entire Bathurst race (about 6 hours of racing) with some friends in teams of 2. Each driver will race for 10 laps then be required to pit and swap with his team mate. At this stage there are going to be 14 of us (7 teams). Jamie and I have been practising hard!
Thursday, July 15, 2004
Half Naked Thursday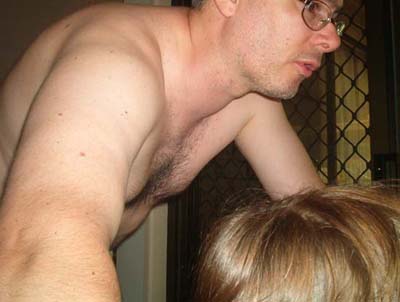 Wednesday, July 14, 2004
Blog Basics
Tim also has a fantastic site called Blog Basics.
Learn everything you need to know about blogging in one nice easy place.
Blogswap
Tim over at Challies.com is running a meme called Blogswap.
I was too slack to get involved the first week, but this week I am in!
Watch this space for a guest post, and my post will be hosted on someone else's blog.
For more details or if you want to get involved check out Tim's Blogswap information page.
Monday, July 12, 2004
Monday Meander
Today I didn't do a linear meander (as in wander from one blog to the next, but a hub meander, that is I started at Blue Sloth and picked five links I hadn't been to before.
Here they are.

Busy Mom
She has an interesting slant on the oddities of life - very dry and amusing - my sort of humour!

autumleaph
Short and to the point posts - easy to read and entertaining as well.

coffeejedi
autumleaph's fiance - they got engaged last week!. He also likes driving and driving games.

Virtual Rants
An hilarious read - made me laugh out loud! - Really! Check out the story of the suicidal lizards

Mom in the Mirror
Virtual Rant's wife Mom in the Mirror she talks to her pets!

Head off for 5 never before visited sites from one site on your blogroll and let us know what you found out.
Blue Sloth
Phil over at the Blue Sloth has created an awesome links page for those regular contributors to his site. Go and check it out - and his site and the other links - there are some great blogs. Thanks Phil for adding Judith and I
Maybe do a Monday Meander - maybe I'll even do that...
Home Group
Tonight we decided to try something a little different. Hamo had me thinking about how to include the kids, and we all piled into the lounge and explored worship a little deeper.
First we all came up with a word to define worship, and then using each of those words we did something around that. Eg for singing we sang a couple of songs that the kids knew, while Jadeen danced, then we said some sentence prayers for praise and thanking, we broke some bread and drank some water for contemplating or thinking quietly. It was great to see the kids involved, and later as I was tucking them into bed both of them thanked me for letting them be part of it. Unfortunately Erin had to be put to bed part way through so Judith missed out on part of it.
We finished up with the word picture that John paints for us in Revelation 4 of the scene in heaven of the throne and the lamb and the worship of the saints, angels and living creatures etc.
Next week I think we will look at discipleship a little.
Sunday, July 11, 2004
Church Vs Family
What comes first - your church or your family? No brainer for me - family every time.
Today we headed off to mother-in-law's place again to catch up with the rellies before they headed off back home (several hours drive away). We looked at the photos and video from Saturday night.
I then spent the afternoon and evening rebuilding her PC.
Back to the question. I think it is easy for us to blur the line between priorities, and this can cause problems when talking to people who are not regular church goers. They vecome unsure of what we are tryng to do, and cannot relate to how they could possible see them selves going to church on a Sunday. Many people use Sunday as the day to relax after a hard week and catch up with family. How can we then relate to these people and invite them to church, knowing they are going to refuse straight off the bat?
I think this is where the home group, missional approach is excellent. It is non threatening, doesn't interrupt their weekend, and allows for relationship building with the option to approach "religious" topics.
How do you approach this problem and what comes first, church or family?
Saturday, July 10, 2004
Sore
I was the goalkeeper for the entire game today as our sweeper was away. So our other goalkeeper I normally share that duty with played sweeper. For a while at least before heading off to center forward!
We were also 1 man short so no subs and I had to make save after save. I have a very sore thigh and knee from constantly diving, my right foot is partly cramped from all the goal kicks I took, and my right arm is bruised from saving a lot of balls. I had lots of fun. It drizzled a little right before the game which was good because the field would have been very dusty otherwise. It also meant that there were some puddles in the carpark afterward, and I was able to utilise one to do an impressive burnout on the CBR1100XX.
We ended up losing 4-2, and I was lucky not to have been red carded for a professional foul. I made a deliberate save (handball) well outside the box. Fortunately the ref only made it a penalty.

Last night my indoor team (without me as I was on a plane) lost 6-2 in the semi final. So once again we finish a season without winning the league. That's 10 seasons now, and we have made the finals 8 of those seasons and played in 3 grand finals so far without taking away the big one - maybe next time.

Then tonight we headed off to my mother-in-laws surprise 50th birthday. Page full of photos.
I built her a web site for her business, and she was very surprised to say the least.
Drop in to the shop and check out the awesome wedding dresses she makes. Also the very cute models include my daughter, sister-in-law and cousin-in-law.


Friday, July 09, 2004
Photo Friday - Cool
Thursday, July 08, 2004
Optimism vs Pessimism
A very thought provoking article from Orson Scott Card.
This is from a writer whose books I have enjoyed for more than just the fiction they contain, but also for the powerful concepts explored in them.
This article explores the dangers of false optimism, and the actions that a pessimist would take in order to preserve the liberty of optimists.
I like the way Card draws his conclusions regarding the use of oil in todays society. He is obliquely discussing the concept of peak oil (Google it for some interesting reads).
Ask yourself this, is there something in your house that did not require the use of oil either in its construction or transportation to your house. Think carefully. I could think of nothing in my entire house that did not rely on oil in some way.
Let me know if you can think of anything.
Thanks to Russ for the link.
Half Naked Thursday
Thanks to Genuine and the Blue Sloth I bring to you Half Naked Thursday in a shameless attempt to attract more women to my site!


Note this was forced on me by my then 4 yr old daughter at Christmas time!
Working Hard
Do you work hard?
I like to work hard. When I am at a clients I put all my effort into the work that I am doing for them. I am away again and working hard. Except I am not at the moment which is I why I am blogging.
I don't have access to the net from my login, but seeing as all the employees are at a meeting with the union I have access from the admin assistant's desk.
I don't like sitting around, and I have done everything I can without input from the clients.
Anyway - I need to get back to what I am supposed to be doing.
Have a great day - and work hard!
Monday, July 05, 2004
Weekends are the Best
I have had an amazing weekend.
Sorry for the lack of content on here for the last couple of days but that's because my life has been soooo fantastic I haven't had time to post how good it is. Now before you all go Marauuuuggghhh and vomit over that let me explain.
As the sub title of my blog states I talk about the fantastic things in my life here. SO if negative or bad stuff happens I don't dwell on it or even bother giving it credence. This is my philosophy. Bad stuff does happen to me - I just choose to ignore it or deal with it and move on. I find that way that life goes a lot smoother.
All that aside the weekend has been fantastic.
First - I came home - the plane was early and I had great presents for my kids. The last few trips I have been unable to please Jadeen with her gift. It seems she wanted what I gave her sisters or just didn't want what I gave her - Friday I bought her a $2 doll from Crazy Clarks and she loved it - I was so happy. I also got her a golden book of Tarzan. Erin got a doll also and Miranda was ecstatic to receive the latest Saddle Club magazine. Judith got a digital photography magazine. Mercedes got lots of cuddles.
Saturday I got up early (after watching tennis and footy on TV most of the night) and packed all the PCs and network gear into the car and headed off to the LAN.
We had a good crowd and a fantastic night - excellent game play and we had a good time.
Sunday we decided to stay home from church as there was no sunday school due to holidays. We had sunday school at home and once I had put all the PCS back together downloaded some sunday school material on Esther and did her story with the kids. Miranda (who has been in my sunday school class before) said to Jadeen - "he's the best sunday school teacher!"
Following that I spent 3 hours completing some business accounting in preparation for the financial year end, transferred money around and then we went out.
We went to the movies and loaded up on chocolates and lollies (special treat) and then went ad saw Shrek2. Awesome!
We were going to go out for dinner but as we hit the highway to come home we landed in Sunday night return from the coast traffic jam. We exited immediately at a highway roadside service centre with a McDonalds and a play area. Judith waited in the long line for food while the kids played and then we scooted off and took the next exit and went home and made Tacos. Judith and I then cuddled up and watched a movie together. I then watched Formula 1 GrandPrix, Tennis, and Moto GP races until about 4am before hitting the sack. I actually fell asleep and saw none of the tennis but saw the presentation of the trophies. Roger Federer won Wimbledon again. He is a gutsy player with a fantastic grass court ability. Roddick played brilliantly but was unable to match him in the end. I get the feeling that if there was a rematch it could go either way.
Today we are going to head off shortly to see some friends, go shopping for some more downlights and then come home and I get to use the new drill to install them in a fish tank cabinet. They will look good I hope.

So now you see why I have had a fantastic weekend. The kids are all excited and I have a few things to do before going so must finish this now.
See ya next time!
Friday, July 02, 2004
Photo Friday - Father

Judith took this photo of me holding Mercedes.
Posted for Photo Friday's challenge for this week.
Drunk Driver
Doug posted a link to a web site of either a very bored person who is creative with Photoshop or a scary drunk driver story.
Thursday, July 01, 2004
My desktop
This is the picture I currently have on my desktop.


Yes I look a lot different now but Jude looks just as sexy as then - this was taken 9 years ago.