Tuesday, August 31, 2004
Riding
More bike riding today.
I really enjoyed the sunny day and cruised backroads through the suburbs this afternoon instead of fighting the freeway snarls. Took about the same time and was much more fun.
I would love to take the CBR 1100XX to a drag strip and find out just what it could do in a straight line. I know I can get over 200k/h in about 6 seconds. I reckon thats got to be close to the 1/4 mile.
Sunday, August 29, 2004
Morning Moods
I wake up with between 1 and 5 women in my bed.
Pick the mood is like playing russian roulette.
Here are some photos from the morning - but the moods are different to the photos.
Miranda who is usually happy in the morning was doing the zombie impression face flat on the bed. I caught her rolling over and trying not to grin.


Jadeen is usually grumpy but she acted up for the camera. She is so sweet.


Erin was in a funny mood and was doing growling. I got this photo of her laughing at herself after growling.


Merecedes is just flat out funny!


I don't dare post the morning photos I took of Judith. Sorry - but I want to wake up next to her for a few more years yet! (They were really funny though)
Saturday, August 28, 2004
Relaxing
Its great to have completed all my deadlines and actually take the evening to play with the kids, cook and eat a lovely meal with the wife, watch a movie and more!
Dinner was oven roasted sweet potato, pan fried salmon seasoned with lemon pepper and cauliflower cheese.




I played Barbie Mermaid with Erin this morning. She pointed and I clicked. So cute!
Photo Friday - Modern
This weeks Photo Friday challenge is titled Modern.
Our modern photo album - we use several computer monitorz around the house to display our photos as a screensaver.

Friday, August 27, 2004
Techie hard at work
Here is a picture of Rohan my techie - hard at work installing linux on my backup server. We fixed the boot problem, added a second hard drive for backup purposes and installed the latest Debian distro on it.
Its now back online and ready for the main server to fail - hopefully it isn't needed!

Doc Martens
I got this junk email today - spam in fact - only I like this one. I wear Doc Martens when I ride my bike. Have worn them for years and years.
Check out the ad its great!
My favorite wife
Here she is.




See why she is my favorite?
Thursday, August 26, 2004
Do NOT install Win Xp SP2
I repeat - do NOT install the service pack 2 for Windows XP if you use any of the following progams and want them to work afterwards.
A real firewall - eg Zonealarm, Norman, EZ Armor, Outpost etc
Antivirus software such as Norton Antivirus 2003, Norton Systemworks, Kaspersy etc
Word Perfect Office, Yahoo instant messenger, AOL Toolbar etc. The list goes on and on.
The more I read (and typical Microsoft fashion it took me more than 30 web pages of uselss marketing trash before I found the deeply embedded technical articles I needed) the worse it got.
There is even a toolkit that you can deploy to stop Windows update from running the update. Why? unless it was demanded by scared system administrators.

Some of the things Microscum does wrong or badly.
Assume all users know lots about internet security, installing programs, and blindly trust Microsoft.
Write all their web pages in marketing speak. Eg "

While recognizing the security benefits of Windows XP SP2, some organizations have requested the ability to temporarily disable delivery of this update via Automatic Updates (AU) and Windows Update (WU).

"
Make it difficult if impossible for the novice user to understand the impact of what they are doing when upgrading with a service pack like this.
Write such crap software that requries major upgrades like this in the first place.
Expect users to download a 262 Mb download file.
Assume everybody using Windows XP is also using internet explorer.
Expect people to understand how to perform an automated system recovery backup - and then use it if the upgrade does not perform correctly!

Click comments and answer this statement.
"I know how to find and run the automated system recovery backup wizard and could use it to recover a failed installation of windows XP SP2." TRUE or FALSE

We will not be installing this update. I already have a better firewall than the windows one, better antivirus software, do not trust windows automatic update, and don't use internet explorer.
I would advise users of Windows XP to think carefully and ask a professional they trust before installing.
Half Naked Thursday 26 August 2004

Bath time with Erin.
The bubbles were from Radox - soothing my aching and bruised body after soccer on Saturday. I had a huge scrape down my left leg making a slide tackle to clear a ball from an attacker. I was goalie and I made the tackle way out on the right wing to save a nearly certain goal.
Tuesday, August 24, 2004
Bike Fashion and Web sites
I have been riding the bike this week and revelling in the great weather.
While riding I have seen some very classy billboards. Both of these billboards have websites. So I looked them up.
The first Condura is fantastic - everything a website should be - uncluttered, easy to navigate, no broken links etc - only problem is only trade customers can buy from them.
The second Novo shoes is crap. It loads slowly, has a fussy scrolling menu that is annoying to use and doesnt allow easy navigation, half of the pages have nothing on them etc. There billboards have been around for a few weeks now. How many sales are they losing by not having a working website? Who knows. I wanted to buy the shoes on the billboard for my wife - but I can't now. Now how do I become a trade customer?
Bike and Work
Its been good this week to be back on the motorbike again. I am working from home this week and the weather has been fantastic so have been riding the mototbike. The CBR is just a perfectly tuned bike for traffic. Responsive to the throttle even when way down in RPMS and nimble enough to zig zag through traffic. I have to travel 130km round trip each day to the client and a large amount of that I do on freeways or arterial roads that jam up in peak times. I am able to zip past hundreds of cars. I love the bike. makes up for having to work in between rides!
Tomorrow I am taking the admin girl from the clients for a ride - she is getting her big bikes license and doesn't have it yet so I am just going to let her sit on the back. Should be fun!
The funniest baby in the world
I am now calling Mercedes the funniest baby in the whole wide world. She laughs and giggles more than the other girls ever did. Last night she woke Judith wanting a feed by giggling.
Here is a pic of the four girls with Shannon the baby sitter! Mercedes isn't laughing here but every one else is smiling!
Sunday, August 22, 2004
Ukraine
I found an internet museum built by a young Ukrainian explorer. It is a testament to the countless lives lost in World War 2 in the battle for Kiev between Soviet and German forces.
She has dug up many interesting artifacts from this time and also explores the many bunkers and undergound tunnels in the defense system that has come from before the mongols invasion in the early part of the millenium.
My brother also has posted a series of articles to his website following the story of his 10 days in Crimea. They are worth the read. Here's the first link.
Vision
Last night I had a powerful dream I can only describe as a vision.
I went to a town that was going to experience flooding, only to find about a town over the mountain that was cut off and needed help.
I took a mountain trail on my mountain bike. When I reached a fork, a lady was there to assist me in taking the hard steep trail that tracked up the ridgeline rather than the easy looking track through the valley.
As I struggled up the ridgeline, I woke up.
I became instantly aware that I was being spoken to in this dream to keep struggling up the hard steep road. That the people who needed my help were worth the effort.
We seem to have been working lately with single mums, and broken families. Hurting people. It has been our mission to help these people. Last night clarified that for me.
Saturday, August 21, 2004
Photo Friday
Thursday, August 19, 2004
Morning mum
This morning I am looking after the baby and managing Miranda's school work (not very hard - just need to push her along).
The we are having a lady from the street our street comes off over for morning tea. Following that I have to go into the city to quote on a job for a client. Its great when you get repeat business from a client.
I think family time is in order for the evening. The last 3 days I have put in 18 hours or more and tomorrow is a big one also.
Its great to be busy, but not too busy!
In the meantime my baby is playing happily and giggling. She is so sweet. Last night instead of sleeping she giggled out loud in her cot while her parents enjoyed quality time together. Makes the ambience somewhat less than romantic, but very funny.
Here is a pic of my baby and my lady.

Rain at last
Last night it rained. that was really good for the grass and the trees etc, but it meant traffic was crazy (after not raining for several months)
It took me 1hr 50mins to go to my client in the morning - usually an 1 to an hour 10 max drive.
I took the car not the bike becauise of the rain.
Tuesday, August 17, 2004
Fortune
Virtual Rants posted this - I like it.

When you compare your life to another's, you invariably feel fortunate because of someone's troubles, or troubled because of someone's fortunes.
Sunday, August 15, 2004
Members Meeting
As hard as you try to make a church members meeting fun they are really pretty jolly boring!
I think I asked more questions from the floor than anyone else - livened it up a bit.
Saturday, August 14, 2004
Server, Soccer and Stuff
The server corrected itself - go figure - Linux is great! Thats what i call low maintenance! Thanks Rohan.

Soccer
Today we drew 1-1. I had a pretty good game playing at center forward, but would have like to actually have scored a goal. Both teams had very few shots on goal with very tight defence in very windy conditions. I did provide assistance to the goal we did score.

I am writing a report for the church board committee. It is very sensitive and will definitely cause some controversy when it is tabled. It has been interesting getting to the bottom of issues that need to be resolved.

I had a ball playing with the kids tonight - they are such fun! We are enjoying watching the olympics. Notice the medal tally in the left side bar courtesy of the Athens Olympic Blog. Go the Kiwis!

Then off to the office to code VBA for a client - so I better get back to it.
Server Woes and Photo Black Friday
My photo friday entry for tranquility is posted on the photo archive.

In other news a power blackout last night went longer than the UPS could handle the server so we went off the air. When it went back on we couldnt get the DHCP server to restart, and are still having problems today. Not sure if something happened with the power outage or not though the UPS should have protected it.
The web and mail servers are still running though we will hgave to restart the machine periodically so if you get a 404 error just try again in a few minutes.
The silly thing is my backup machine failed last week! so My redundant system just failed. Oh well - Rohan is working hard at fixing it.
Mixed emotions
Not for me - I am happy! I got flowers from my wife today - thanks love!

Check out these pics from the park today - is Erin happy to be there or what?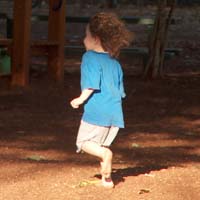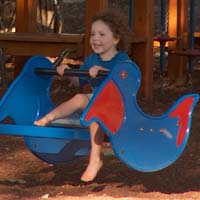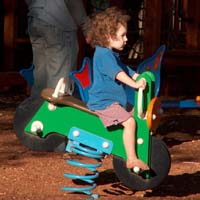 I will post some pics of the other girls later.
Blogswap 4: Freedom
Today's blogswap entry comes from dolls




I do not think I to any extent understand the fullness of freedom that I have. I have the freedom to wake up in the summertime when I desire. I can go to a Christian school during the year. I can attend the church and the religion of my desire. But, I believe the one freedom that I am most thankful for is the freedom that I have from sin.

Over the past few years I realised what a slave to sin I was. I was a slave to death. There was no hope for me in my sinful state. At the age of twelve I became aware of my sins and decided that I wanted to become a slave to Christ. A slave to life.

There has always been a song that stuck with me through a large portion of my Christian walk. "Pierce my ear oh Lord my God, take me to your door this day and I will serve no other God, Lord I'm here to stay, For you have paid the price for me, with your blood you ransomed me, and I will serve you eternally, a free man I'll never be."

What hit me most is that slaves in old testament times would have to work for seven years then they were free. If the slave came back they would peirce the ear of the slave using a nail and the door as a stable post, and then they were a slave for life. I have chosen to be Christ's slave; that is the best form of freedom I could imagine.






My entry will be posted on Sober Minded.

To view the rest of this week's entries, Blogswap 4 archive.

Would you like to BlogSwap? For more information visit Challies.com.

Thursday, August 12, 2004
How well do you know me?
Coding Frenzy
I am away = no kids and no wife = no distractions (at least now she has gone to bed and I can no longer chat to her :( on MSN) = plenty of time for coding.
I am writing code to deliver data to a stage where it can converted to xml for upload into a data warehouse.
I am also simultaneously listening to an eclectic mix of trance, heavy metal and guitar virtuouso music (Steve Vai - Fire Garden Suite right now), answering emails and reading and writing blog entries.
I would rather be at home doing the same thing with a faster internet connection, more comfortable chair, faster PC (this laptop needs more RAM desperately) cold drinks to hand and a warm wife waiting for me in bed!
Wednesday, August 11, 2004
away again
I'm travelling again - ony for 2.5 days this week though.
Tuesday, August 10, 2004
Mr Mom Part 3
Now its getting tougher.
I went and picked up Jude, dropped her and the baby at her mum's shop so she could giver Merc a feed, then went and picked the kids up from preschool. I was accused of getting them too early cos they wanted to play.
Went back to mums shop and installed ZoneAlarm on her PC now she has broadband. Zone alarm blocked an intrusion attempt within 5 mnutes.
Came home and parked the kids in front of a DVD while I dealt with email etc.
Now dishwasher loaded and humming, other dishes washed and put away, kids doing chores and playing outside, Judith relaxing.
I need to go to the chemist for a bandage to dress her wound with.
Its a tough life being a mum!
I would trade this for the businesses any day if I could get the same money from somewhere else!
Getting Tougher
I had to pause the DVD - I was falling asleep. So I had a nap for an hour.
I woke up and kept playing the DVD, but I had to pause again while I took a phone call - the security company wanted me to run a diagnostic on the alarm system. I made toasted cheese and pickeled onions while I was doing that and finished off with a peanut butter and strawberry jam sandwich. YUM!
The movie is finished now.
Jude is ready to come home from the hospital but the baby is stll asleep.
What should I do - wake the baby and go get Judith or put another DVD on?
Doing it Tough
Today I am mum for a day.
Jude thinks this is really hard that I have to look after the kids - well actually 1 baby.
The day so far:
Rose at 6:30 and got kids up - left at 7am - went to maccas for breakfast.
Dropped Jude at hospital
Dropped 3 eldest kids at pre school.
Came home - played with baby - changed napy and fed her and laid her down to sleep.
Set up laptop in TV room so I can surf and blog, put matrix DVD's on - CRUISE!
Gee this is tough...
Monday, August 09, 2004
Manic Monday
flat out day
train to city
client fixes to stuff
working lunch with clients
accountants to drop off tax returns
international banking
train to dentist
3 more fillings
home on train
dinner with kids - VERY yummy pork chops!
meeting for church board committee
play with wife :)
work to do for couple of hours before bed and then tomorrow I get to be mum for a day!
Sunday, August 08, 2004
Lazy Sunday Afternoon
Today we didn't finish up at church until 12 (after arriving late) and then we came home to share lunch with some friends from church. They have 3 boys aged 6, 5 and 3 so lots in common.
We discussed the emerging church and how our church fits into that (it doesn't really, but bits of it do).
Our home group ministries (they run one at someone else's house) and the youth group (he is the leader) are on the cutting edge of suburban church. Meeting peoples' needs where they are.
We got onto tougher topics, like how do you manage the churn (backdoor from which poeople leave church) and other like thoughts. Great to spend time with someone on the same page.
Great also to share some of the stuff I've picked up from Hamo and Darren
From there we played some slot cars with the kids and then I snoozed in front of footy and car racing while the kids played (mostly) nicely.

Finally I finished transferring the test web site for church to the live server. Check it out and let me know what you think!
Friday, August 06, 2004
Photo Friday Pic
Half Naked Thursday on Friday
I forgot.
Anyway - here is the bub & I.
PS the cute one is the baby.

New Fish
I have repopulated my large 1000 litre tank
It had 2 Convicts (

Archocentrus nigrofasciatus

) left in it.
I have added
2 Firemouths (

Thorichthys meeki

)
2 Jaguars or Manageunse (

Nandopsis managuensis

)
and 2 Chocolates (

Hypselecara coryphaenoides

)
They are settling into the tank well.
Testing Meme Propagation In Blogspace: Add Your Blog
Testing Meme Propagation In Blogspace:
Add Your Blog!

This posting is a community experiment that tests how a meme, represented by this blog posting, spreads across blogspace, physical space and time. It will help to show how ideas travel across blogs in space and time and how blogs are connected. It may also help to show which blogs (and aggregation sites) are most influential in the propagation of memes. The dataset from this experiment will be public, and can be located via Google (or Technorati) by doing a search for the GUID for this meme (below).

Please join the test by adding your blog (see instructions, below) and inviting your friends to participate -- the more the better. The data from this test will be public and open; others may use it to visualize and study the connectedness of blogspace and the propagation of memes across blogs.

The GUID for this experiment is:

as098398298250swg9e98929872525389t9987898tq98wteqtgaq62010920352598gawst

The above GUID enables anyone to easily search Google or other search engines for all blogs that participate in this experiment, once they have indexed the sites that participate, which may take several days or weeks. To locate the full data set, just search for any sites that contain this GUID.

Anyone is free to analyze the data of this experiment. Please publicize your analysis of the data, and/or any comments by adding comments onto the original post (see URL above). (Note: it would be interesting to see a geographic map or a temporal animation, as well as a social network map of the propagation of this meme.)

INSTRUCTIONS
To add your blog to this experiment, copy this entire posting to your blog, and then answer the questions below, substituting your own information, below, where appropriate. Other than answering the questions below, please do not alter the information, layout or format of this post in order to preserve the integrity of the data in this experiment (this will make it easier for searchers and automated bots to find and analyze the results later).

REQUIRED FIELDS (Note: Replace the answers below with your own answers)
(1) I found this experiment at URL: domesticpsychology
(2) I found it via "Newsreader Software" or "Browsing the Web" or "Searching the Web" or "An E-Mail Message": Newsreader Software
(3) I posted this experiment at URL: Spy Journal
(4) I posted this on date (day/month/year): 06/08/04
(5) I posted this at time (24 hour time): 10:45
(6) My posting location is (city, state, country): (Brisbane, QLD, Australia)

OPTIONAL SURVEY FIELDS:
(7) My blog is hosted by: Blogger
(8) My age is: 36
(9) My gender is: Male
(10) My occupation is: Company Director
(11) I use the following RSS/Atom reader software: Intravnews
(12) I use the following software to post to my blog: Blogger
(13) I have been blogging since (day, month, year): 11/03
(14) My web browser is: Mozilla Firefox
(15) My operating system is: Windows XP Pro
Thursday, August 05, 2004
toenail punishment pedicure wife
And I hope the person who found my wife's site with this search in Google isn't really going to punish their wife with a pedicure!
Catching up
Thanks to a client booking me this week and then not needing me they have paid me to stay home. It has been great catching up on all those little tasks that otherwise would never get done - like going to the dentist :(
If I get organised enough I might even attempt the rebuild of our home and business web pages. They are currently out of date and were built in Microsoft FrontPage. Time to move to CSS. See this fantastic article about CSS tableless design. Thanks Doug for the link.
Wednesday, August 04, 2004
Numb
The right side of my face is numb and I keep biting my fat tongue without being able to feel it.
I got 2 fillings on the right side and I have 3 to get on the left side when I get to go back next.
The kids all had their checkups also and so did Jude. She needs to get two wisdom teeth removed!
Total was over $700 - paid for by insurance thank goodness. Thats the years premium used up!
Dentist
Off to the dentist today - the whole family is having a checkup.
I loathe dentistry...
Tuesday, August 03, 2004
Creative use of Blogger
I have nearly finished rebuilding our church website - and have made extensive use of blogger in order to make it very simple for the church staff to post information themselves.
I would appreaciate any feedback - constructive or otherwise
(Note: the link is to a beta site and will be broken once we go live.)
Fish and Glass
Today my biggest fish died.
the Cichlasoma dovii weighed 1.25kg and was just over 350mm long.
She was around 4 years old.
She had very sharp teeth and also ate several hundred dollars of fish that the aquarium dude assured me could keep away from her. - I guess he was wrong!
Here are some pictures to remember her by - the kids called her Miranda Dovii.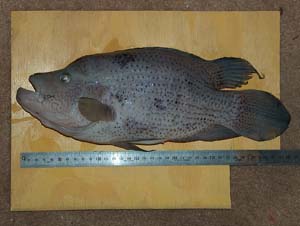 !

She now resides under an avocado tree.
I shall replace her soon with some new baby fish - yet to be chosen.
This evening the kids broke a window by crashing into it - they are lucky they didn't get cut. Thank goodness for strong curtains.
Monday, August 02, 2004
Home Group News
We have decided to move to fortnightly. Mainly because its too hard to get consistency when people are not there, and not everybody can come every Monday. I think this will be better.
Tonight we continued on in the follow up from the 40 days of purpose themes and looked at Unity in Fellowship. Admittedly I took most of my material from the pastor's talk on Sunday, but I was able to involve Miranda and the others in an icebreaker and activity demonstrating unity.
First we passed around a hat with questions to ask someone else printed on slips of paper. This elicited some information from people we wouldn't have otherwise known.
Then we used three glasses with a small amount of water in them and added a few drops of food colouring. Red, Yellow and Blue. We addded the Blue and Red to each other and made Purple and then added the Yellow to get a dark Green.
The point was; once added it was impossible to extract a colour from the final colour. By adding the individual components we had in fact created something different. The new entity requried the individual parts, and the individual parts could no longer exist outside of the entity.
Thus it is with the body of Christ the church. Once we are part of it we need all the other parts and the whole body itself as much as it needs us.
We then explored the statements:


We belong to each other.




We need each other

- especially relevant to Jamie and Laurie after their mother and wife passed away last Sunday.

A lot of story telling - and grieving - was done. The healing process is working. It was great to just sit back and chat and relax over a hot chocolate and a Tim Tam.
Sunday, August 01, 2004
Spaceport for New Mexico