Wednesday, October 06, 2004
OK so there is some more...
Sunday, October 03, 2004
Time for a change - new site
This is the last post for this site.
All new material for the family and personal news can be found at the all new Spy Journal Personal.
Please change your links for my Personal Spy Journal to http://www.spyjournal.biz/spy/spy.html
IF you syndicate my site then please replace your current subscription with the new xml link. This is readable in any RSS reader that can handle the ATOM format.

I will be posting a lot of information about RSS readers and syndicating sites soon on the Blog Tips blog.

The other new blogs are
Excel Tips
Linux Tips
Blog Tips
Emerging Church
Change of tack
Today I had planned to do bulk web site development of the new blogs.

Nothing I planned happened which is unusual for me.

Last nght Miranda got worse - Jude took her back to the hospital and she was diagnosed with the 'flu'. This morning she was still vomiting (after 3 days - and with nothing that she has tried to eat in that time held down.) She was complaining of sore eyes and pain behind her eyes. I deduced this was due to dehydration and resolved to get some more fluids into her. I rang our doc who suggested (and she is the most practical down to earth doctor ever!) "just get anything you can into her - lollies, coke, chips chocolate biscuits - anything. Not normal - but just a chance to get something into her. Also try to get the liquid paracetamol into her also (she had just thrown up my last attempt to do this). So I sat and encouraged another lot of medicine, some more water and some dry wafer biscuit into her - to see it go out again inside 10 minutes.
Last resort - bribery and corruption.
I then suggested that if she could keep it down I would get a Playstation 2 for her to play on. She requested Spyro. So I rang my mate who kindly brought his over and I went to the video shop and located Spyro (and also Alias for Jude and I to play) By the time I got back Miranda had held down the next lot of medicine and was starting to eat biscuits. I brought a gigantic bag of popcorn back also and the three kids settled down to play / watch Spyro. I wouldn't let Miranda play til she had some food in and the popcorn was a great hit. By lunchtime she was feeling a lot better and the other kids had also had a turn.
Then Jamie came back (he had taken his girlfriend to the beach after dropping the PS2 off) and he and I played V8 Supercars online for a while. After that I came in and kicked back with the kids til dinner which we shared with Jude's mum and sister - yummy red wine marinated roast thanks Jude. I then had a nap on the couch while the kdis watched 'Herbie Rides Again' After putting them to bed Jamie came back over and we played Alias til about 2AM! Now I finally got to do some emails and read some blogs and I am going to bed with not one skerrick of web development done all day - And I feel fine about that.
Friends and family are more important.
Saturday, October 02, 2004
Today and catchup
Today is a day for lots of things

Krystal turned 32 today - go and say happy birthday.

We won our soccer game against the team at the top of the league. We are still placed second but only just behind them. We have also scored more goals than anybody esle in the league this season. I played a second game later on and we won 6-1 - I scored two goals.

Today I went for a walk with the two middle girls and the dog. My mission was a photo titled 'speed', the Photo Friday challenge. I got one shot which I published in our photo log for the challenge. However I took a bunch of shots of the girls and the lake. Heres a taste.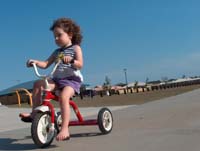 I got stacks done on the new web site. We will be moving soon, get ready to change your links for me.