Monday, May 31, 2004
Beach
It was good to catch up with Tanya and Serge for lunch yesterday. This followed a walk along the esplanade where they live in Brighton.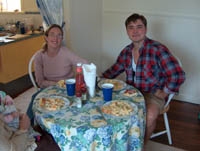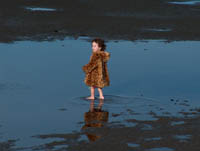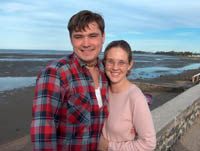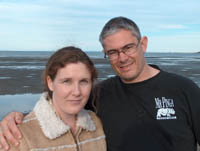 Browser Marginalisation
Here is the response to an email i sent regarding a javascript menu that didnt work correctly in Mozilla Firefox.

Hi Timothy
I'm afraid that the I_____ site only supports the major Browsers such
Internet explorer and netscape as these being the most common browsers
used, this would be why your having issues with our site using a browser
such as mozilla

Regards,
I_____ Support

Man was I tempted with a nasty reply - however I need to do business with these folks so I grin and bear it!.
On the couch
I slept on the couch last night
Here's why!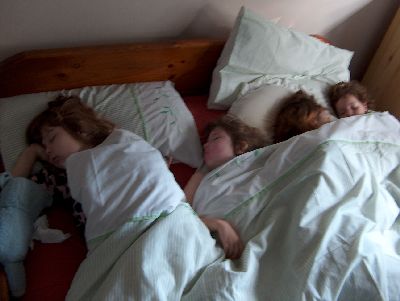 Sunday, May 30, 2004
Emerging Church
Heres some more reading on the Emerging Church - or Emerging Missional Church.
Hamo and Stephen both make good points.

Here are my comments.
Hamo first.
We also use the Borden - Carver board and directors structure. It has been developed over the last 5 years and is seeming to go well.
I say seeming, because although we are growing (net growth) and enjoying a more attractional approach, I have two serious reservations about the ability of this model to work.
First we have a large amount of churn, and there doesn't seem to be any strategic methods to counter this other than asking exit questions if possible.
Second and inline with your question, the attractional model does nothing to bring people who have no intention ever of going to a church in to the fold. I have many friends who of this persuasion. Although wiling to debate and talk spiritiual things at times they all without any hesitation state clearly that they will never go to a church. So far in the last 10 years, only one has relented, they came 3 or 4 times, made a decision to follow Christ??? and then haven't come back and seem reluctant to now talk about it at all.
I have worked in drug arm in New Zealand and feel that this type of missional work (which is largely ignored by mainstream churches) is exactly what Christ would have done. Right now one of my ministries is in computer gaming, reaching a community of people who have no interest in church. So far we have 2 regular attenders from this so I'm positive that this is the right sort of thing to do. However that is only one subculture. What about people who are martial artists, pigeon racers, radio control model car enthusiasts, nudists and other groups of people who the church doesn't usually interact with? We are called to these as much as any other group.
My concern with the USA southern baptist models being transplanted here to Oz reflect yours, they don't fit the culture. I believe that over 50% of Texas attends church on any given sunday. Less than 10% here in OZ. That's a major difference.

Now Stephen
I agree wholeheartedly with your definition.
How to reach the "unattracted" is our mission. How to make a more comfortable club for fringe (read lukewarm) Christians does nothing for me (nor for Christ if you read the letters to the churches in Revelation literally)
Interstingly as we rock through the 40 days of purpose - first purpose is worship - I have finally clarified what I knew all along that worship is an attitude not an activity and especially not a form of music.
This last week I have enjoyed recognising my worship reflected in my activities by my attitude.

Obviously it would have helped if you read the posts by these guys before reading these comments!
Saturday, May 29, 2004
Shopping
I love shopping!
My wife reckons I am the shopper of the family.
Today I went on a specific mission to buy a camera bag (to hold the new digital camera and the digital video camera). I got a real good buy from the kodak shop. Then I picked up a heater for my office.
Finally I took Judith to get her new tattoo.

I also made up a photo page for Judith's birthday.
Friday, May 28, 2004
40 Days
The 40 Days of Purpose program is going well at church.
We are working our way through the book "The Purpose Driven Life". As we progress we are also meeting in small groups for discussion weekly. Our group is going well with spirited discussion and great conviviality. We are enjoying learning together. Our hope is we can extend out to others and bring them along also.
I have been responsibile for the web site and it has been good to help the team pull it together. We have weekly updates down to a fine art now. Well done team.
Thursday, May 27, 2004
Happy Birthday Judith
Wednesday, May 26, 2004
Baptism
David Heddle has picked up on some interesting ideas regarding Baptism. Aftrer reading the comments I was compelled to add my two cents on the practive of the Lord's Supper and Baptism.

Where are we required to use alcoholic wine and unleavened bread to perform the Lord's supper? In my mind Jesus took the common elements in front of him and applied a symbolic representation to them. To put this in today's terms he may well have used the left over pizza crust and the bottom of a bottle of coke after a meal was finished.
We are instructed to follow in like manner; that doesnt mean we need to get dressed in the clothes of the period, sit they way they were sitting or say exactly the same thing, but as the Pauline epistles are full of "have the same mind as Christ".

I think the same can apply to baptism. It is not so much the act as the intention. Hypothetically, could an astronaut in free fall brought to salvation be baptised symbolically where no body of water is available?
Origin Game 1 Result
Well it was 8-8 at full time, and into extra time with golden point. New South Wales scored first with a field goal to take it 9-8. Two games to go and Queensland on the back foot.
The game itself has not been without its controversy over the last few weeks buildup with two blues players dropped from the side and disciplined by their clubs for making an obscene phone call while out on a "bonding" session. Gasnier was fined $50,000 by his club for his involvement.
On the field tonight the two teams played with less than the usual intensity, reserving the big efforts for the first 10 minutes and the last 10. Most of the game was patchy in performance, a lot of handling errors and some disallowed tries. I hope the next game is more exciting. Tonight was a reminder of why I don't really enjoy watching rugby league. However being at friend's place for the event more than made up for it, the room was divided 3-4 QLD-NSW and plenty of sledging and bias was shown in the stands! Having an official ref in the room allowed for good explanation of some of the decisions also.
Thanks Steve and Lisa for hosting a great Origin party!
Sound Bites
State Of Origin
State of Origin Rugby League is on tonight. Game 1 of the annual 3 game stoush between the Mighty Maroons (Canetoads) and the Blues (Cockroaches).
As always I back Queensland seeing as I live here. However I am actually not a Queenslander by birth, hailing from the fair land of Ao Te Aroha (New Zealand).
Aussie and Kiwi readers, who do you support and why?
I hope the Maroons get up and smack the blues all over the park tonight. Go the Maroons!
Tuesday, May 25, 2004
Travel
Sunday, May 23, 2004
Soccer Glut
An over load of soccer (football).
Friday I landed at the airport at 7:30 PM. We took the kids to maccas for a play in the playground before going to my indoor soccer game. We won!
Saturday afternoon I went to my outdoor game where we lost.
Saturday night late I went out to watch the FA cup on the big screen. Kickoff was at midnight. Manchester United won 3-0 over Millwall. At times it looked millwall was in a completely different league!. I particularly enjoyed watching Ronaldo's very skillful ball control and body jinking. He is a very dangerous player. He also scored the first goal with a header. van Nistelrooy performed well putting away a penalty and then coming into the back of the box to put away a low cross. Technically he was offside but if its not called its not offside! Besides it made no difference to the result.
Wrap up by AP
Saturday, May 22, 2004
Best Blogger Idol Selections
Blogger Idol - Home


Its good to be home.
I am in the middle of a 3 month period of traveling away from home. This involves 3 from 4 weeks where I leave on a Tuesday morning for a 6am flight and come home on a late flight Friday night.
It is good to be home.
My kids are all excited to see me, and I buy them each a small present. Its great to walk up to the family "bus" outside the airport and open the tailgate to put in my bags and pass over presents to excited girls.
It is good to be home.
My wife is beautiful! She handles the whole household while I am away, feeding, clothing, schooling and looking after 4 girls. She also manages some client work, rental inspections and fields business calls and does errands for me.
It is good to be home.
My pets miss me. Jude's dog is excited to see me and wants a rub and a pat. My bird Reginald wants a fondle and a whistle. My fish want to be fed and watched. They know me and recognise me and want me to feed them!
It is good to be home.
I can watch footy on my own TV and surround system, shower in my own shower, sleep in my own bed (next to the beautiful wife) and use my PC's, my broadband internet connection (oh how I hate dialup on the road!) and enjoy the material comforts I have set up for our family.
It is good to be home.
Home is where my heart is.

Thursday, May 20, 2004
Purple Cow Church
Wednesday, May 19, 2004
Excel Tip
Excel Tip of the Day
Short cuts enable you to do stuff with excel much faster. Typically these involve the keyboards as that is a faster way of interacting than a mouse.
Here are some of my favorites
CTRL SPACE - select a whole column
SHIFT SPACE - select a whole row
CTRL + inserts a cell (or a row or column if the whole row or column is selected)
CTRL - deletes a cell (or a row or column if the whole row or column is selected)
CTRL PAGEUP - cycles up through the sheet tabs
CTRL PAGEDOWN - cycles down through the sheet tabs
CTRL D - fill down
CTRL R - fill right
CTRL INSERT - copy
SHIFT INSERT - paste
SHIFT DELETE - cut
F2 - edit formula
ALT F11 - open visual basic explorer
CTRL TAB or CTRL SHIFT TAB - cycles through open workbooks in forward and reverse
Comprehensive list of keyboard shortcuts
Tuesday, May 18, 2004
Travel
Jocks - check
Socks - check
Shirts - check
Toiletries - check
Vitamins and tablets - check
Laptop - check
All files transferred (whoops) - reboot laptop and transfer - check
Sleep - zzzz - check
Rudely awaken at 4am - check

Car 40 mins, wait at airport 30 mins, plane 1 hr 50 mins, car 1 hr 30 mins

I really dislike travelling for work.... I like the frequent flyer points though!

Still I get plenty of time to myself at night time. This week (three nights) I have to do website maintenance, write blogs and email newsletters for Jono, do work for another client, manage finances and sometime talk to the family.
At least I will catch up on my to do list!
Monday, May 17, 2004
Monday
Had a great ride on the bike today.
Its an awesome time of escaping from the world as you are locked inside a helmet and welded to a machine. I rode home during a sunset and saw the beautiful orange and pinks reflected off the water as i crossed a river. Amazing. I love cruising through traffic and beating them all home!

Then we had home group. Number one in the 40 Days of Purpose. After a false start with the DVD we kicked off OK and had a real neat time of discussion. Finished up with prayer for the group and suggestions on how we can invite others next week. I will work on my new neighbours I think.
Sunday, May 16, 2004
Linkage
Saturday, May 15, 2004
Soccer
Today I played in the 3rd division od the Brisbane Baptist League. We played lost 2-0, the other team scored 1 minute before both half and full time.
Here is an action shot of me taken by Judith on the new video camera. (I am 3rd from left running hard)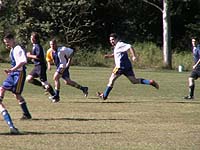 Here are pics of the kids enjoying themselves at the soccer.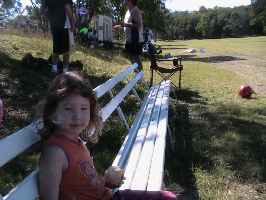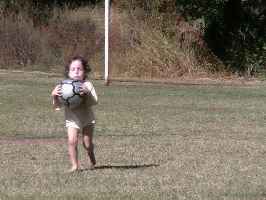 Thursday, May 13, 2004
Marriage
"We feasted on love, every mode of it, solemn and merry, romantic and realistic, sometimes as dramatic as a thunderstorm, sometimes comfortable and unemphatic as putting on your soft slippers. She was my pupil and my teacher, my subject and my sovereign, my trusty comrade, friend, shipmate, fellow soldier. My mistress, but at the same time all that any man friend has ever been to me"

C.S. Lewis

I can say that about Jude - she is amazing in so many ways
Love ya babe

Thanks Hamo for the quote.
Wednesday, May 12, 2004
To Do List Today to Friday
Monday, May 10, 2004
Blogger Idol - Secrets
Brisbane's Drains

Brisbane is in a subtropical area, and the main city is built on the banks of the Brisbane River. These two factors combine to require the city engineers to construct large stormwater drains. These drains make excellent caving (speleology) or draining expeditions.
The secret places of a city are often the most interesting.

Creek St runs down through the city from Spring Hill to the River. Its name comes from the creek that it now covers. Thus there is a tunnel underneath the street that permits the water flowing from the spring to the river. This tunnel is a double red brick oval tunnel, with the water actually wearing away the first layer of bricks in the bottom. Entrance can be obtained at low tide (the river is tidal for several kilometres) from below the Rowers nightclub building. You will get wet getting into the tunnel. About waist deep at low tide for the first 20 metres or so. After that the water is no more than a trickle in the bottom. This tunnel has lots of overhead obstructions that HURT your head when you hit them. Pipes and concrete overcasts mostly. There are also plenty of manholes, but be careful with these as they are in the middle of a busy street! After several hundred metres it opens up into a room where you have 3 tunnels to choose from. One is reached by climbing up a ladder and heads off to the Myer Centre. You can get into the underground carpark / bus area from here. The second continues up creek street and then angles off down Adelaide St. We pushed up a manhole cover and emerged in front of the fountain on the footpath out the front of King George Square - much to the delight of onlookers (at about 3am they are all mostly drunk anyway so who cares). We haven't been up the third tunnel yet - it may head on up the hill.

Another tunnel well worth exploring is to be found down by the kangaroo point cliffs park. From the river (via boat) this is an obvious entrance but from land is a bit harder to find. It is just east of the captain cook bridge. Once again entrance needs to be obtained at low or medium tide and involves getting wet the first 20-30 metres. This is a natural rock tunnel carved under the cliffs for some 100 metres or so. Then it suddenly turns into a gigantic concrete round tunnel. You could drive a small truck up this tunnel - it is huge! At one point we climbed a very high manhole ladder up and up and up til we pushed out the manhole and found we were in a grassy piece in the middle of the Vulture St/ F3 Freeway interchange. Back down we continued up the tunnel. Exploring a side tunnel we found a large amount of money and other stuff that had fallen down drains by simply digging in the muck at the bottom of the tunnel. This side tunnel was eventually blocked by a bridge or building piling that had been driven right through the tunnel, leaving only a small gap for water to flow through!
We continued up the main tunnel for more than a kilometre eventually calling it quits for walking and climbing out a manhole in a street in Annerley. Next time we take pushbikes or skateboards I think!
Sunday, May 09, 2004
Saturday, May 08, 2004
Friday, May 07, 2004
Thursday, May 06, 2004
Wednesday, May 05, 2004
Monday, May 03, 2004
Saturday, May 01, 2004