Saturday, October 02, 2004
Today and catchup
Today is a day for lots of things

Krystal turned 32 today - go and say happy birthday.

We won our soccer game against the team at the top of the league. We are still placed second but only just behind them. We have also scored more goals than anybody esle in the league this season. I played a second game later on and we won 6-1 - I scored two goals.

Today I went for a walk with the two middle girls and the dog. My mission was a photo titled 'speed', the Photo Friday challenge. I got one shot which I published in our photo log for the challenge. However I took a bunch of shots of the girls and the lake. Heres a taste.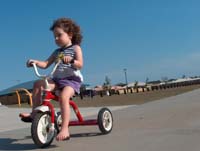 I got stacks done on the new web site. We will be moving soon, get ready to change your links for me.