Links




This is my blogchalk:
Australia, Queensland, Brisbane, English, Female, 26-30.
Blogroll
-------------
Recipes
Archives
free website stats
Saturday, May 29, 2004
Birthday
Ouch!
Today I received the last of my birthday presents.
Previously I had received
$50 from my dad (bought a nice jacket and top)
cook book from the in-laws
quilt cover set from mum and sis
a fun day at seaworld with another sis
phonecall from another sis
from the kids - 4 canvases, oil paints, acrylic paints, paint palete, brush roll with 18 brushes in it
Today I got my present from hubby, a tattoo. I was tentative right up until the moment it happened. It hurt...and by the time the outline was done I was feeling rather faint. The tat was on my lower back, in one of the more painful spots on the body.
I am so tired I do not know what else to write.
Here it is, taken on the new camera.
Friday, May 28, 2004
Perfect
Isn't it great when you pick up your sleeping baby and she wakes up to look at you with a happy face, as if she is saying/thinking 'This is the most perfect place in the world to wake up'. Doesn't it make your heart melt.
New Camera
Our new camera arrived today.
We got a new camera through insurance as I dropped the previous one and broke the camera compartment, and it sorta went funny. (do not ask for explanations)
It is a
photosmart 945
(scroll down to the bottom for a pic of it)
This is about 5 times better then our previous camera which was a 2.1mp, this being 5.2mp
Time to head off, check the sicky and make my birthday cake.
Thursday, A Day Late!
I am writing up yesterday, today, a day late. Mostly because I was tired when I arrived home and was dealing with an overtired toddler who insisted on tipping out her juice into a suitcase.
Yesterday, Thursday 27th May, was fun. Once we got past the 'I wants' it was a good day.
The day started off bright and early, at 6.30am. With most things packed the previous night, and the excitement of the girls, it was a breeze to get out of the door before 8am. We left at 7.50am. A quick stop at the corner shop for some fruit and we hit the road, traveling the 1.5hrs to Seaworld.
Note: This is the Seaworld on the Gold Coast, Australia
Bubs was good and slept most of the way, the other girls were good also.
I think we visited everything they had to offer minus a couple of rides.
We saw
Reef Discovery "Live Underwater Show"
Polar Bear Shores
Shark Bay
Quest For the Golden Seal
Dolphin Cove Show
Planet SOS in 4-D
Ski Challenge
We also visited Cartoon Network Cartoon Beach (little kids rides) while Aunty Jo and Miranda went on the scarier rides (corkscrew, pirate ship, log ride)
We visited the dolphin nursery, lighthouse, endeavour ship and many other attractions they had there. It was a full day of fun and trying to spend as little money as possible.
Lunch we had snacks, brought by me, hot chips ($7), and fairy floss ($3)
We did visit the chocolate shop and I treated the girls to a couple of lollies. I think I spent the least amount here ($0.90)
When it was impossible for us to get close to the action (due to prams/sleeping baby), I would send my sis up with the older kids to enjoy the show/action. They sat front row at the seal show and erin decided an apple would look nice in the water so that went in. While the other 3 were in Planet SOS, Erin and I played hide and peek until another little girl was brought out of the show cause she was being too loud (her dad looked upset since he had to bring her out and didn't get to see all the show).
After leaving, close to closing time, we headed to a nearby shopping centre for dinner and a wander until we knew it was time to go, so the kids would sleep on the way home.
I dropped off my sis (just as her boyfriend was leaving to go out drinking with work mates - he is another story for another time) and headed home.

Today we still recover from yesterdays big day and I think Erin has a cold or something as she is still tired and grumpy. She has just gone back to bed. I will let her rest as this weekend looks to be a long one for us all. Next week should return to normal though.
Wednesday, May 26, 2004
Last Night
I had a good night last night.
The girls were all easy to put to bed, the bubs though decided she wanted to talk to me and didn't go down till 9.30pm though. I did not mind since I was able to receive a call from a friend in England, and we chatted for about 20 minutes.
I decided not to go out last night as I thought I was too tired to drive. We stayed home and watched The Black Stallion, well most of it. I chatted to my sister online and learned that she will be staying with us tonight, before we head down to seaworld tomorrow.
Overall it was a good night but I wish I had gotten more sleep and bubs had decided she was too tired to feed. At least I got that special bonding moments with her. When she wakes up during the night and sees me come to pick her up, she wriggles and grins widely, sometimes giving a giggle. It is so cute and always brings a smile to my face, unless of course my eyes are shut because I am so tired.
Today should be a good day also.
Tuesday, May 25, 2004
Worn Out
What a day it has been and it is only half over.
My day started at 2.30am with a feed to the bubs, which ended up being close to an hour since she was hungry/restless.
I had restless sleep for the next half hour as I knew the alarm was due to go off at 4am so hubby could get ready for his plane trip up north. I managed to catnap till 4.30am.
4.50am it was off to the airport, kids bundled into their seats with blankets and all asleep, fortunately.
6am we arrived home, minus hubby, with kids still asleep in their seats. I grabbed their stuff for the day ahead then decided to have breakfast out and an earlier then normal start to the day. We headed off to Macca's for a 6.35am breakfast.
7.10am we then headed off to childcare to drop off the middle two, followed by a brief stop in at mum's shop until 8.30am
8.45am we arrived at horseriding for Miranda. Her class started at 9am with her pony being temperamental and just refusing to trot unless encouraged by the whip. (Anything over a slow walk was hard) I think the pony preferred to be left alone to enjoy the grass of the paddock. An hour there and quite a few phonecalls to various people, it was off home.
10.30am we arrived home had an early lunch, quick change of clothes (the baby decided she didn't like what I was wearing, nor what she was wearing so decided to dirty her diaper and let it escape)
11am We headed back off to the shops to do groceries and overspend the budget. My excuse is that I wanted some different/nice food for my birthday. I bought a cake mix of my liking, not the one Miranda chose, which the girls will make tomorrow so we can have a birthday cake.
12.30pm it was off to pick up the girls from preschool, rather early and in the middle of their naps. They were excited to be picked up early and eagerly arose from their mats on the floor.
12.50pm we headed off home, exhausted and with kids all asleep in their seats.
1.15pm it was time to unpack the groceries and feed grapes to the kids so they didn't try to raid the supplies I had saved up for our trip to seaworld.
1.30pm I sat down, to feed bubs, listen to messages on the answering machine and respond to emails.
1.40pm I made my calls, and started this inbetween interruptions. I also found the mouse which had made itself at home in our home, it was dead, cold and stiff, under the window sill in the TV room.
1.45pm Erin came out wearing her new undies on her head as a hat then proceeded to take them off and put on all 3 pairs properly.
1.50pm I hear drip drip drip coming from the kitchen. Erin had upended the cold electric kettle on the bench and tipped out the water so it was flowing onto the floor. A quick cleanup and then back to hear to listen to silence as they all either sleep or watch a DVD.
Now I await return calls, return emails and a plumber to visit so we can hopefully have hotwater tonight. I really want to have hot water tonight as a cold shower is not a very pleasant thought.

I can't say it has been a bad day, infact it has been quite a good day, with lots acheived and still more to come. Tonight we will head to girls brigade to drop off Miranda then the rest of us will head to the library for some relaxation till it is time to come pick up Miranda and head home.

What tomorrow holds in store, I do not know yet, as it all depends on what happens this afternoon. But I do know this, it will be a productive one in getting things ready for Thursday.
Monday, May 24, 2004
3 Days
3 days until I leave behind 27 to become 28.
It is scary adding another year onto my life, but then if I had not gotten older I would have missed out so many things I could not do because of my age increasing.
Things I would have missed out on if I never grew older then my teens :
gotten my drivers license
been able to drink alcohol (not that I do anymore)
go night clubbing (that stopped when kids came along)
sign legal documents (mostly a good thing)
mature
reduced insurance costs
and a whole bunch of other thing that only happen as you get older
I guess it is not all bad and I can only take each day as it comes, trying to enjoy it.
I will see my kids grow up if I to get older and that is a plus to getting older

Friday, May 21, 2004
Paint
The kids have had fun today. We started with them watching a few morning cartoons while I managed a little sleep in. We then had breakfast and talked about what we would do today.
So far nothing has gone to plan but I do not care.
We visited the pond, watered the strawberries and topped up the stream. After this, and a little bit of laundry we put on some music and danced around. First it was mixed music, then classical (swan lake) followed by some belly dancing. J got frustrated over the lack of excitement at first and walked away a few times before she got more involved. I tried to help them with the little dance knowledge I hold, but we ended up just jumping around and swinging kids around. It was fun, we all laughed and E has had a good fill of mummy.
E is a mummy's girl.
Lunch time and we dragged out the uncooked prawn crackers and had fun watching them puff up in the hot oil. The girls thought it was fantastic and even more so afterwards when they got to eat them. M even ate a banana which was a prerequisite for having chips.
With some more play in the lounge and bubs having tummy time on the floor, it was a few quick photos (not dl yet) and off to make potato stamps.
I really need to buy more paint since black gets boring after a while.
We made a heart, diamond, butterfly and star stamps from the potatoes, and then proceeded outside with our huge piece of paper to stamp. They had fun and did what kids normally do and get covered in paint. E covered her hands and feet and legs with smears in a few other places, in paint. I didn't get a chance to get a pic since I had to clean her up before beige walls turned black. It was funny really as she was proud of how carefully she brought the paint container inside.
Now J & E are raiding the fruit bowl while I do up this and feed bubs at the same time.
Secrets
See I can keep secrets and so can the kids. We kept this a secret from hubby for over 2 weeks. The girls had childcare photos taken a little over 2 weeks ago but they offered us the opportunity to do all 4 girls together, so we took them up on the offer in order to surprise hubby and other family members. The last photo we had done of the girls was when Erin was a baby, 2.5yrs ago. Now we have an up to date pic.
Miranda (almost 8) is holding Mercedes (3 months), Jadeen (5 years) is standing at the back and Erin (2 years) is standing on the side.
Here are my beautiful girls.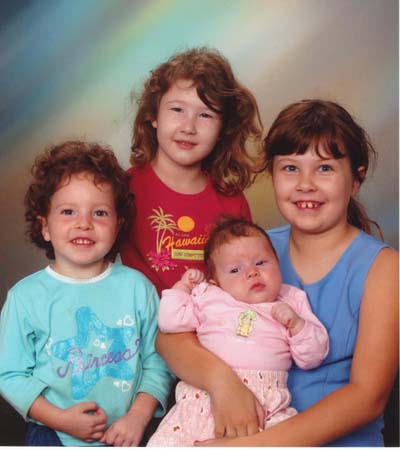 Note: Erin's hair stood out on end because we brushed it dry that morning. Her hair is naturally curly (tight ringlets) and goes fuzzy when brushed dry.
Thursday, May 20, 2004
Rental Inspection Update
As I figured, we did not pass our inspection and have to be reinspected in two weeks time.
I am not getting upset over this one but am going to give into my husband's pleas of getting a house cleaner. At least this way I can't take it personally when she knocks my ability to keep the house orderly. It must be one of those signs that I am not meant to do housework. Well I still will be doing it, just not as hard and as regularly as before.
Most of the stuff that needs doing will be outside stuff so it is time to don the sunscreen and hat, find something to dig up weeds with and spend the next two weeks working outdoors.
They say gardening is good for you.
Though I won't be doing this every day, as next Thursday I shall be taking off the day to go spend it with my girls and sister down at
SeaWorld
for my birthday. I turn 28.
Time to head off and prep dinner and become a little more organised with my work schedule for the next two weeks.
Dinner tonight will consist of a frozen pizza and salad/fruit
Wednesday, May 19, 2004
Baby Giggles
Bubs had a fun time tonight, giggling at E's antics. She adores her older sisters and watches them all the time. I love baby giggles.
Twice
Today is a day for things happening twice. Or at least the second part happening.
I weighed bubs today, she is 5.75kg which converts to 12lbs 11oz. She was 6lb 5.5oz born, so she is twice her birth weight.
I forgot to return
Monstrous Regiment
to the library. This was the second time I have done this. (It is not overdue yet though)
My daughter just paid me back, twice.(I did not remind her to do this either, she did it off her own back)
I am sure there is more stuff but it evades me at this stage.
Miscellaneous Ramblings
The kids and I read some books today. I am glad they love their books. We read 3 books from The Little Princess series and a couple of other books.
It is an overcast day, but it is warm and comfortable, the baby is sleeping well and the kids are playing relatively well together.
I think I might go do some filing and ignore the crumbs on the floor for a while, until they annoy me enough anyhows.
Argh I left the phone in the nursery, will get that before it rings then possibly get onto the filing if I do not get distracted first.
Oh Tim, I tidied my desk too!!!
Good Morning
I was woken up this morning, in the daylight hours, by kisses from my 2 year old. How sweet. Today is already a better day then yesterday and I can understand the true meaning of
home
, thanks to
Angie
.
Yesterday is yesterday and today is today, so lets make today the present and yesterday the past.
Tuesday, May 18, 2004
- 16
Home?
What is a home?
I had originally planned on finding pictures on various different types of homes and using that as my entry but I thought I would change that grand idea and just write a few things instead.
Today we had our house inspection, since we rent. I hate these things as our home then becomes someone else's place so that we may be granted another 3 months of peace in our home before it again must turn into someone else's place once more. Admittedly it is not 'our' place but it is still our home.
Our home is where we live, work, play, school, sleep, eat (breakfast, lunch, dinner & snacks), talk, laugh, etc. If our place is a home then why do we have to make it a resort room in order to impress the property manager. I do understand that they are looking to see if we are looking after this place and keeping it appropriately but when comments like - "your house cleaner didn't do a good job" "the patio is a bit disappointing" "it looks a bit crowded" "you have a lot of stuff". These types of comments just do not do good for the soul.
Yes the kids were given the job of cleaning the patio and did a terrible job but it is obvious that it is undamaged and looked after reasonably well.
Yes I was the house cleaner and it was spotless yesterday and the kids did wake up and play with things before the inspection.
Yes we have a lot of stuff but we do more then eat dinner and breakfast or sleep here. WE live here.
The pond is the pond, we can't clean it out lest we disrupt the eco system that is contained in it, unbalance the levels in the water and kill the fish.
Sometimes it seems that people do not appreciate what you do.
Enough complaining and time to have a good day!
Monday, May 17, 2004
Chocolate Mousse

This is yummy and so simple to make.

200g dark chocolate
1 cup whipping cream
4 eggs, separated

1.Melt chocolate. Once melted, beat in egg yolks until smooth and glossy.
2.Beat cream till it forms stiff peaks. Fold into chocolate.
3.Beat egg whites till they form soft peaks. Fold into chocolate mix.
4.Pour into ramekin dishes. Should fill 6 dishes.

To decorate, grate or shave white chocolate and sprinkle atop the chocolate pots just before serving. Serve with fresh strawberries on the side.
To Do Or Not To Do?

This is the question upon my children's lips.
Today we are cleaning up for the house inspection tomorrow.
I have nominated several tasks for the children (the older two mainly)and have sought their counsel on when these tasks should be done. So far there have been more words then actions. They have accomplished several of the smaller tasks, still are deciding on the bigger tasks and are getting distracted by caterpillars.
On the plus side, it is good exercise when the 2 yr old loves to run amok, naked, messing up what has been cleaned. Also, the house looks good with what has been done and it has been relatively easy so far.
Now I sit, nourishing the baby, taking a little break.
Sunday, May 16, 2004
New Work
A couple of new pieces have been added to my
art site
. Drop on in and check them out.
Friday, May 14, 2004
To Shop Or Not To Shop

I went out to the shops today, on mission to buy some ramekin dishes and light bulbs. I came home with - 4 ramekin dishes, 2 lightbulbs, a seive, a cheese grater, 2 melamin plates, 4 melamin bowls.

I Remember When - I would go yabbying


When I was a kid and we lived in a semi rural area, I would often go yabbying with friends. There was a creek that ran along the back of our place, which was eventually replaced with an open stormwater drain. The small creek eventually ran all the way down to a large saltwater creek lined with paperbarks and mangroves.
We sometimes tried the traditional method of yabbying by tying a piece of meat to a string, but more often then not, we would just scoop around in the small pools with our home made nets and sort through what we brought out.
We quickly learnt how to pick up the crays and not get nipped by their fearsome nippers, which way they would try to swim away(they swam backwards) and which were best put back as they were too small to eat.
We would cook them in salted water, to help get rid of the muddy taste, until their shells went red. The bigger they were the more meat you found in the nippers.
When I was older we tried to keep yabbies as pets but they kept escaping and finding secretive spots to die and smell funny which attracted flies.
Juice


300ml apple juice
1 banana
1 kiwi fruit

Place peeled fruit and apple juice into a cup/container, and blend until smooth.

It is a great pick me up for the morning.
Tuesday, May 11, 2004
I Remember When - My Dad Used To Own A Farm

This memory is a little patchy as it is over 18 years old.
When I was a little kid, my dad used to own a farm, in the scruby country section of Rockhampton. The suburb was actually called 'The Caves', as it was named after the fact that there was a lot of caves around the area, some famous locally due to their tourist attractibility.
The farm, I can't remember what was farmed on there if anything, had a couple of acres at the front and a long sloping dirt driveway. At the top of the driveway, and about halfway up the hill, was a couple of sheds. One of these sheds had been transformed into a home and over the years was added on to, to accommodate various step-siblings and siblings. There was also a kennel near the driveway which contained a gated doorway due to the ex-guarddog that lived there. He was a german shepard and named Baccuss.
I remember sitting on an old fashioned tractor as it was moving, shooting from an air rifle and getting a sore shoulder as I was not holding it correctly. I also remember the visitors, go-cart rides down the front driveway, being warned about the brown snakes that lived in the surrounding bush and green tree frogs the size of your fist being in the toilet.
The first time I ever went there I had to greet Baccuss through the car window as he was wary of strangers. He was quite happy to see me as my dad was relaxed and I probably smelt slightly familiar. In those days, and up to a few years ago, my dad drove an old Holden. (Cannot remember what model but it was very old) We used to call it a rolls canardly. It rolls down hills and can hardly get up the other side.
I also remember my step-mother being 'pyscho' and throwing plates in an argument. This was before the days that she was diagnosed as bi-polar(I think). She had two kids, Tanya and John.
Tanya was the oldest out of the four of us, then it was my sister Melissa, followed by John and then me.
My dad used to work in the prison in those days.
I think that is about it, as I do not seem to remember much more then teasing the dog with some guests' kids and getting in trouble for it.
Saturday, May 08, 2004
Blogger Idol 15 - Secrets
I have a little secret, a little secret it is.
Will I tell you my little secret?
Well that is a secret in itself.
I have many little secrets, though some might find then silly.
But these little secrets are my little secrets and I do not see them as silly.
If I told you my little secret, you would think it not a secret and you would be true.
Since I told you then it would no longer be my secret and I would have to search out another answer to your question.
I have many things which aren't secrets and some of those are :
I love my kids
I love my husband
My dog frustrates me but she is still a loyal hyperactive friend
I love to cook
Things scare me
Things make me laugh
Things make me cry
There is so much out there which is me but are not secrets.
I have a little secret, a little secret it is.
Will I tell you my little secret?
No!
Note
: This was not a poem just miscellaneous ramblings from a busy mum.
Friday, May 07, 2004
Fizzy Foot Bombs


Mix 1.5 cups of bi-carb (3 parts) with 1 cup of ascorbic/citric acid (2 parts). Mix well and break up any lumps in it.
In a separate bowl, mix 4 tsp almond oil, 5 drops of fragrant oil, 2-4 drops of colour.
When combined, add half a cup of powder mix and mix thoroughly and quickly. If it seems too dry, to stick together, then add a little more almond oil.
Press firmly into a lightly greased mold.
Turn onto a piece of cardboard, or something firm which it can dry on for the next 24 hrs.

Note: To make the recipe in full, it would use approximately 5 tbsp almond oil, 1 tsp fragrant oil and 1/2 tsp of colour.
World 4 Sale


While working at my desk, I overheard part of M & J's play. It went like this....

M : Would you like to buy the whole wide world?
J : How much is it?
M : $169 only!
From The Babes Mouth


No, she isn't talking yet, well with words at least. She likes to chatter away in her own baby language, adding a few little giggles as she does. She loves to chatter to me before she is settled down for bed at night. Just to watch her face and see her eyes twinkle, and her happy smile, is a treasure in its own.
She is also rolling now, not completely over but she is trying to see what is behind her and waving her little hands around trying to touch what it is she seeks. She quite often rolls almost completely onto her side. There is no keeping her still when she is on the floor. She is just the cutest.

E has been having a rough time lately, which I think was mainly due to too many late nights and still getting up at regular times. She has been falling asleep at odd times in the afternoon then waking up grumpy but still going to bed at the same time as her siblings. Yesterday was a breakthrough. She went to preschool and was grumpy up until the time she had her rest, which she woke up happy from. I managed to watch her playing, before she saw me, and saw the change in her. She was happy and laughing, playing with her friends. Now I just need to get her into a more regular bed time, regardless of what is happening. I think it will benefit the other girls also.
E gave me a poster and flower she made at preschool (childcare actually as she is only 2 yrs old). It was so cute.

J is enjoying preschool still and had her class photos done on Wednesday. It took her sister's silly antics to make her smile and the photographers have a good picture. They have a mothers day morning tea at preschool today but unfortunately we will not be going as it is not our regular day there today. I think J can help make muffins and we can have a special morning tea that way.
J also had fun yesterday while we were at the library. She loves going there and then to a playground afterwards. She is also expressing a desire to start 'school' so I think we shall up the level of 'school work' we do at home, starting informally.

M is being the big sister and trying hard to be a good girl. She is this most of the time, with the occasional spit when things don't go her way. She is learning that she is not always the boss. We haven't picked up the level of her schoolwork we have done this week, but she has surprised me this morning by finishing off the PACE before I was even out of bed.

Well I think that is enough said for now. I wish I could go back to bed but I doubt that will happen since hubby has to go out to clients today and when he is home he is working and I need to look after the kids. Maybe I will get to sleep in n mother's day? I doubt it though.

Have a great day!
Wednesday, May 05, 2004
The things kids say

J (5yrs old) was walking around singing
"I'm insane"
and other things that rhyme with it
Monday, May 03, 2004
Congratulations

I just had to blog today's events. It was a special occasion for my eldest. She competed in her first horse riding event.

Here is the tale.

The day started early, but should have started earlier. We awoke early to the alarm to prepare for the proceeding competition. We were ready in record time. All piled into the car we headed off, minus the husband, to the equestrian centre. Upon our arrival, we noted horses already in the ring, being judged on their presentation. This was not a compulsory activity, fortunately. Hubby turned up at the start of the events.
Next it was time for the girls, there were no boys, to get on their helmets and prepare to ride. The beginners started first, walking their ponies around the ring until it was time for the obstacle course. M did well in this, especially since she had total control of the horse from the moment she was on it.
Then the intermediate girls had their go (they were swapping horses between events). Then it was back to the beginners and for their sack race. They started on one side of the arena and trotted over to the other side, which they would then dismount and hop into a sack and jump back to the other side of the arena. M came last, since she was on the horse which wouldn't trot and only walked, despite her attempts to make it go faster. The staff were encouraging and yelling and clapping for her despite the fact she did come last, out of 4 girls.
Intermediates again with a water race, then back to the beginners for an apple bobbing race. The girls started on the side of the arena, raced across, dismounted, bobbed for an apple (before the horse did) and then lead the horse across to where they started from, then it was back (riding) for another apple etc. M didn't want to bob for apples so hubby did it for her, that was funny.
The intermediates did a little jumping and then we had lunch (it was bring a plate lunch). After this it was ribbon time.
M achieved
1st - best groomed horse (I am still wondering how that happened actually since she wasn't there for it)
3rd - obstacle course
4th - sack race
4th - apple bobbing race